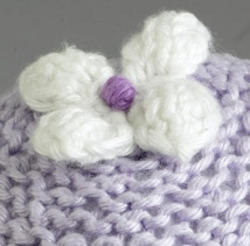 Can be used singley as a decoration on clothing and accessories or grouped to make a posy and sewn onto a hairband or hairslide. Knitting it in green will give you a shamrock / lucky clover. I'm sure there are lots of other uses too.
Materials: Using 2.25mm (USA size 1, UK/Canadian size 13) needles and 4 ply yarn
Pattern:
cast on 5 stitches
row 1: **slip 1, knit 3. turn leaving remaining stitch unworked
row 2: purl 3, turn leaving remaining stitch unworked
row 3: knit 3, turn leaving remaining stitch unworked
row 4: purl 3, turn leaving remaining stitch unworked
row 5: knit 4
row 6: purl 2 together, purl 1, purl 2 together (3 stitches)
row 7: knit 1, knit 2 together and pass first stitch over to give 1 stitch on needle
Use this stitch to cast on 4 more stitches (5 in total) and repeat from ** to give desired number of petals (3, 4 or 5)
If you'd like a larger flower then simply cast on 7 stitches and follow the same principle of working only on the centre 5 stitches for the first 6 rows and then decreasing by knitting 2 stitches together at both ends of the following rows until you have a single stitch again. Repeat for the desired number of petals.
To finish:
thread end through last remaining stitch and then gather up the middle of the flower by catching up  2 stitches the from base of each 'petal', pulling up tight and tying off the ends.
Attach to article and sew a contrasting french knot / button / felt circle in the centre of flower.
Working on the middle stitches only gives the 'petal' a natural curl. Once the flower is finished you can choose to curl petals up or down.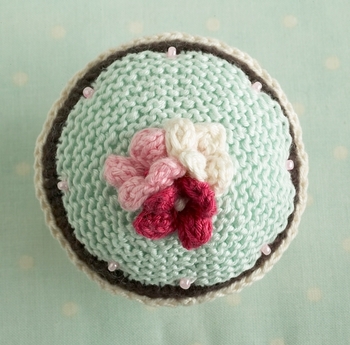 Copyright © Julie Williams 2006.
© Copyright agreement: These patterns are copyrighted and are the property of Julie Williams. They are are supplied for personal and non-profit use only. This means that you may not sell items made from these patterns other than for charity fundraising. You may not reproduce or distribute these patterns (including on the internet). Merchants may not download or print these patterns for sale, distribution, or class use unless they are operating under the Ravelry in-store sales agreement. These patterns may not be translated, reproduced or circulated in another language.