I won't be sad to see the back of this week, which has been a much wilder rollercoaster ride than usual. We've had the highs of little people's birthdays and the lows of terrible accidents. Just quickly to mention my Mum has now had an operation to fit a 'halo' (I always knew she was an angel!) which is a metal frame anchored to her skull and going all the way down to the small of her back to prevent her from moving her head at all. Hopefully with this in place she should be able to start sitting up from early next week and start the long, slow and painful process of recovery.
This week has left me feeling a bit weary but my spirits have been lifted by all of the wonderful supportive comments that you've left both here and on private emails - it means a lot to know that there are people out there sending good thoughts to my poor wonderful Mum. Thanks too for all of the birthday wishes for both of the children. Toby had fun with some helium balloons yesterday (his favourite pressie) and of course he enjoyed cake!
The week is ending on a high note though. Now that the postal strike has finished I've had some lovely mail.
I've been enjoying all of the treats and delights that arrived in this package from Kat at Secrets of a Butterfly. She sent such a pretty bone china cup saucer and plate (I added the tea and muffin!) and some much appreciated cath kidston goodies but my favourites are the beautiful and intricate cards which she makes.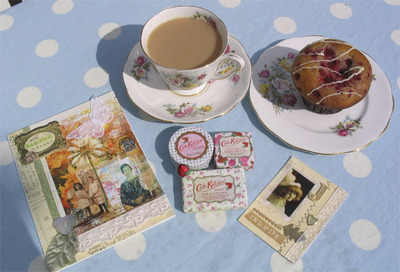 Then this wonderful and thoughtful surprise arrived yesterday with a very beautifully worded and apt note all the way from Kim in Australia. It's such a perfect handcrafted bag for keeping my 'work in progress' bunnies in and I know they'll dream happier thoughts of what exciting lives await them while they nestle together in here...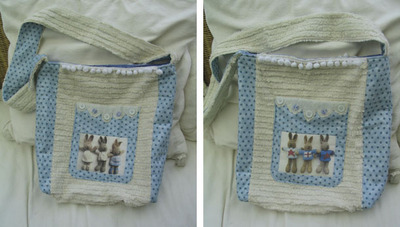 Lastly in the post today came a brand new, just launched magazine - Let's Knit which I couldn't wait to open because not only is it stuffed full of patterns, features and yarn reviews but I'm in it too!! If you squint at this picture you can just make out my smiling face (I'm too shy to show it bigger!) and 2 of my toys.
It's a really nice article about me and my work and it's great timing as I'll take a copy to show Mum when I visit over the weekend.
So, I'm going into the weekend with a smile on my face, thanks so much for your friendship and support in a difficult week xxx