I miss having animals around. Granted we do have Bibble the lovely goldfish but it's not quite the same. I love dogs and cats (can't decide which I love more - they both have many merits). My brother and I had a beautiful, sweet natured cairn terrier when we were growing up along with a long succession of hamsters, guinea pigs and rabbits. As a student living by the docks in Hull I regularly fed the hoards of stray cats and got quite friendly with a some - Chapati, Boris and Devil Cat to name a few. My favourite was Poppadom who became a house pet and slept on my bed each night. She used to travel sitting on my lap and looking out the window on the 7 hour train journey from Hull back to my Mum & Dad's in Reading (I swear she had more dog in her than cat). When I left college she came with me and lived with me for 5 years in various skanky bedsits and basement flats until her gentle passing away one night from old age - I like to think that after her life on the streets her last 5 years as a pampered and much loved pet were the best - she was certainly a very special pet and I always felt that she chose me rather than the other way round.
Anyway, missing having animals around is where we came in and so you can imagine my delight this morning when this little cutie arrived all beautifully packaged from the lovely Stacey Hsu of Original Sock Dogs.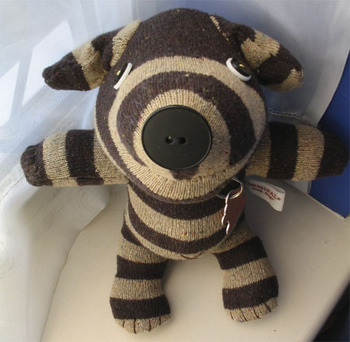 Stacey and I did a 'pet' swap. Nutmeg is so beautifully made and Stacey's attention to detail is fab - he has a little tag on his collar and the cutest belly button and paws. He also came with a beautifully designed label detailing when he was 'born' and his breed (Kerry Beagle, boot socks) and a lovely, touching little description of his likes:
"Everyone has a favourite place...mine is the woods. I love exploring all of the cool stuff out there. I collect a lot of the things I find, like rocks, acorns, moss, leaves...once I even found half a rawhide chew. But the most amazing thing I've found is peace and quiet!"
How could anyone not fall head-over-heels in love with him?!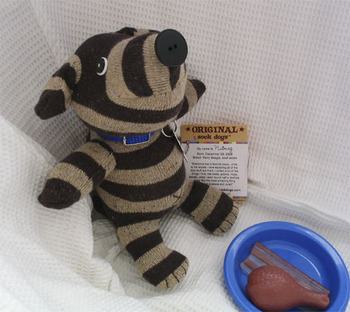 Please go and check out his brothers and sisters at the Sock Dogs shop - they all have wonderful personalities and are in need of good homes and when you buy one you know that you're doing something to help their real counterparts as Stacey donates part of her profits to The Humane Society of Greater Kansas City where she also regularly volunteers. Please check out Stacey's new blog too. She's quite amazing, making all of these beautifully crafted sock dogs and cats, volunteering at the animal shelter and expecting her first baby any day now. Thanks so much Stacey, I love him to bits!