Amy is starting to build to that fever pitch of excitement that sets in on Christmas eve and has started her preparations by tidying her room without nagging (forgive me my amazement and joy but it's never happened before!) She then spent 2 hours colouring in strips of paper to make a paperchain and cutting snowflakes from folded paper.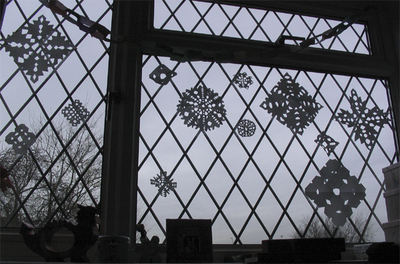 Her room now looks really festive. I'm resisting the temptation to decorate the rest of the house yet - you can have too much of a good thing and I'd not want to be weary of Christmas before it gets going. We'll probably put up our tree the week before if I can hold out that long!
Amy and I have also been shoe shopping (it's nice to go with her as she gets as excited by new shoes as me). Earlier in the year we had our matching summer feet and now we've ended up with matching snuggly toes.