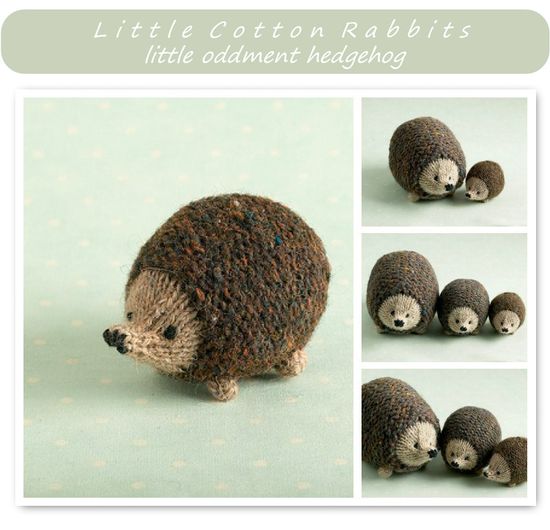 This pattern is written in English only.
This quick and simple 2 page pattern is great for using up oddments of leftover yarn and can be used as a pincushion or a toy. It is knitted flat on straight needles and seamed. You can use any oddments and just need to match your needle size accordingly, for example I'd use 3.75mm needles with Aran weight, 3.25 / 3mm for DK weight and 2.75 / 2.25 mm for 4 ply (use a thinner needle size than recommended on the ball band in order to give a good finish after firmly stuffing.
You can mix yarn weights but it is better to use a thicker yarn for the body and a thinner one for the face and feet. If you don't have a tweed yarn you could try mixing 2 contrasting strands of leftover yarn to give a tweed effect. You'll need approx 12m (14yds) for the main colour, a small amount for the face and feet, and a small amount of black yarn for the eyes and nose.
Little hedgehog pattern
Price: £1.50 (plus any applicable VAT)  

clicking the 'buy now' link above will take you to a new page where you can buy the pattern by credit card or paypal. If you'd like to purchase any of the other patterns please use the 'add to cart' below:
If you'd like to see what others have made from this pattern please take a look here: