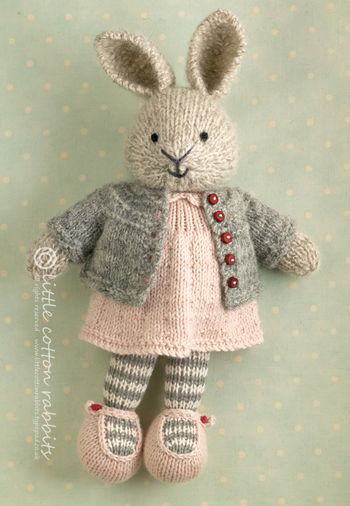 Price: £40 plus postage sold

Gracie is hand knitted from one strand of Rowan Kidsilk Haze (70% kid mohair, 30% silk) interwoven with one of Rowan British sheep breeds Blue Faced Leicester (100% British wool). Her clothes are all 100% cotton yarn, in 'allure', 'still grey' and 'cream'. Please note that her shoes and tights are not removable but her dress is fastened with a tiny button and can be taken off. Her cardigan is in Jamieson Shethand spindrift (100% Shetland yarn) and can be taken off.

She is 11" (27cms) tall
Gracie is made from all new materials and is stuffed with a high grade carded polyester filling which conforms to British standards of cleanliness BS 1425 and fire safety BS 5852. It is a suitable component of articles requiring BS 5665 and the European standard EN71 and those required to carry the CE logo.

Please note: Although she is made and finished to a high standard she will not withstand rough play or washing and is therefore not suitable for use as a child's toy. There is also a very small button fastening her dress which could be a choking hazard. She is offered for sale as a decorative or collectable item.
If you'd like to buy Gracie please leave a comment here. Comments will remain open until 12 noon on Tuesday the 15th of March at which time I will use a random number generator to pick a name to offer her to.
 The random number generator picked number 181 which is Lisa