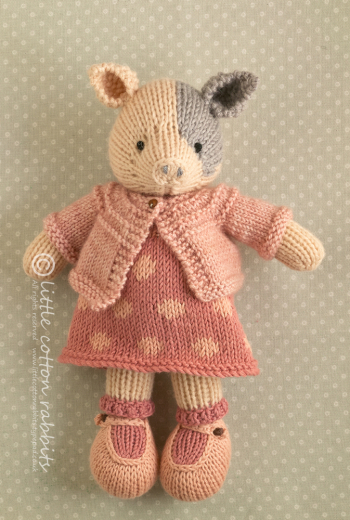 Price: £42 plus postage and packing
Patsy is hand knitted from 'Petal' and 'Kumlien's gull' Quince and Co Lark yarn (100% American Wool). Her clothes are in 100% cotton yarn, in 'rose' and 'dusty pink' and her cardigan is in The Wool Barn cashmere sock yarn (80% extra fine merino wool, 10% cashmere, 10% nylon). Please note that her knickers, socks and shoes are not removable but her dress and cardigan are fastened with tiny buttons and can be taken off.
She is 9" (22 cms) tall
Patsy is made from all new materials and is stuffed with a high grade carded polyester filling which conforms to British standards of cleanliness BS 1425 and fire safety BS 5852. It is a suitable component of articles requiring BS 5665 and the European standard EN71 and those required to carry the CE logo.

Please note: Although she is made and finished to a high standard she will not withstand rough play or washing and is therefore not suitable for use as a child's toy. There are also very small buttons fastening her dress and cardigan which could be choking hazards.
She is offered for sale as a decorative or collectable item.
If you'd like to buy Patsy please leave a comment here. Comments will remain open until 6pm (GMT) on Monday the 20th of November at which time I will use a random number generator to pick a name to offer her to. 
.......................................................................................
The random number generated was 1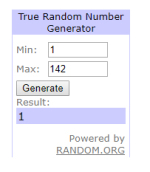 which is Jakki Smith