I've been reading blogs for 6 years now and I thoroughly enjoy it. I'm especially drawn to creative blogs as I love the mix of real life and crafting that makes each of my favourite blogs personal and unique. I've never though felt the need to leave any unkind or callous comments anywhere - it seems un-necessary because if you come across a post you don't agree with you can simply click out and visit somewhere else, after all reading a blog or leaving a comment isn't compulsory is it?
I wonder then what compels someone to reach out with bitterness and leave a spiteful comment like the one left for me last week? I think I'd have felt rather ashamed at having written something like that in the attempt to shovel a little meanness into someone else's day. My personal view is that such comments always reflect far more badly on the commenter than the person that they're aimed at.
Anyway, let's not dwell on the crappy side of blogging.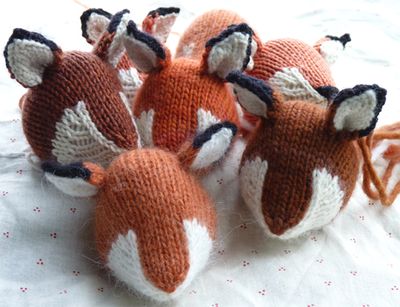 Here I've been feeling foxy, although I still haven't managed to knit a whole one - I seem stuck on heads but the bodies will no doubt follow along. I'm feeling impulsive in my knitting at the moment and I think it's something to do with having that lovely new yarn to try out - it's hard to leave it just sitting there waiting to be used!
On the Toby front much is unchanged but I'm filling in lots of charts about sleep patterns, ABC behaviour charts to record and analyse his frequent meltdowns and lists of what worked to calm him at a particular time. This will all help in an upcoming meeting with the educational psychologist and it makes me feel better too because I feel like I'm doing something positive to help him.
I'm signing off for a week or so as next week is half term break. Hopefully when I come back spring will have sprung and I'll find you all feeling happy and frisky! Have a good week all!
 .........................................................................................
*An 'ABC' chart can be used to record behavioural concerns. 'A' stands for antecedents, ie what occurs immediately before a behavioural outburst and can include any triggers, signs of distress or environmental information. The 'B' refers to the behaviour itself and is a description of what actually happened during the outburst or what the behaviour 'looked' like. The 'C' refers to the consequences of the behaviour, or what happened immediately after the behaviour. It can also include information regarding other people's responses to the behaviour and the eventual outcome for the individual. In addition, it's a good idea to keep track of where and when the behaviour occurred to assist in identifying any patterns.