Writing up knitting patterns is quite a challenging pursuit (at least I find it so, probably because my brain has been scrambled by 15 years of parenting). I'm sure though that there are plenty of talented designers that breeze through the process in a logical, structured and professional manner but for me it is a much more haphazard affair!  Making finished items completely relaxes me and although I stitch count I don't bother to count the rows, instead I knit until it looks the right length. But writing up a pattern for someone else to follow is a whole different kettle of fish - it needs to be precise in terms of both stitch and row counts, easy enough to follow and there is a lot of self-imposed pressure to get it perfect. I thought I'd use the recently released mouse pattern to give you a little insight into the way that I put my patterns together.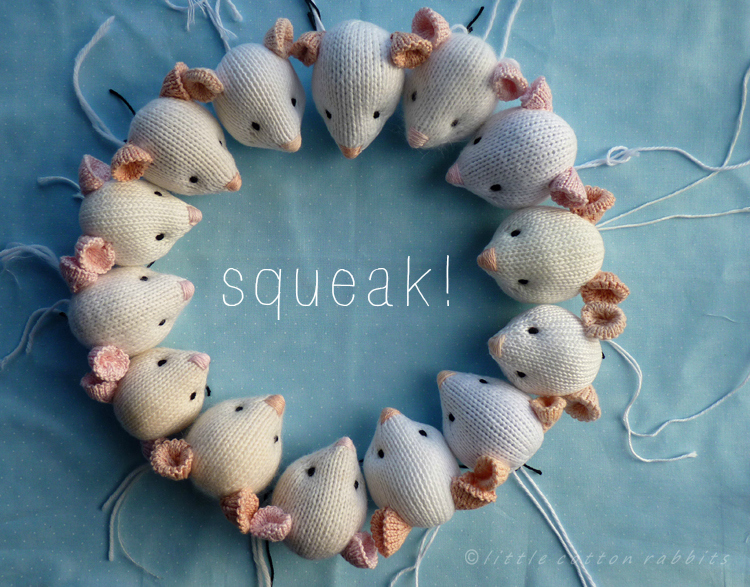 Luckily I've had the benefit of 8 years worth of making and tweaking most of my animal patterns and they've evolved as I've tried out different methods of increasing and decreasing, varying stitch counts, placement of shaping and so on. That however has meant that I have mixed up notes in different notebooks/paper scraps so my very first step is to collate my scribblings into some kind of chronological order. Next I type up my most recent notes, checking back through previous versions to make sure I've not missed anything.
Then it's time for the first full knit through, ticking off each line as I go, clicking away with my row counter and making notes on anything that needs changing or clarifying. I'll make up the finished animal and check that it looks as I'd intended - sometimes I'll go back and add a couple of rows to a tail or change around some of the increases and decreases. On the mouse I did a fair bit of tweaking to get the nose shaping to be symmetrical which is fiddly as there is shaping at the nose (which is viewed right way up) and the underside of the chin (which is viewed up-side-down).
Once I'm happy with the pattern it's time to sort out which yarns to use. I try and research lots of different yarns and work out which will be best suited to the pattern. In order to decide which yarns to shortlist for inclusion in the pattern I make a finished head in each potential yarn. For the mouse pattern I tested out a total of 12 different white DK and Worsted yarns and 5 different flesh coloured ear and tail yarns.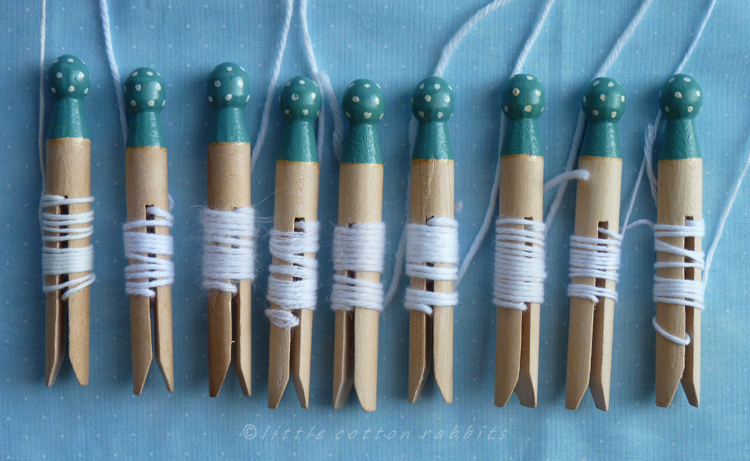 From left to right:
Freedom Sincere Cotton DK, shade 600 (quite thin)
King Cole cotton soft DK shade 710 (mid weight)*
Adriafil Carezza classic (Aran) shade 02 (quite thin but fluffy) See note at bottom of post

Debbie Bliss Mia shade 001 (mid weight)*
Rowan Pure Wool Worsted shade 101 (mid weight)*
Debbie Bliss cotton DK shade 13001 (thickest of all tested)
Rowan Pure wool DK shade 012 (quite thin)
Rowan Cotton Glace (DK) shade 726 (thinnest of all tested)
Rowan Pima cotton DK shade 069 (quite thin)
I've made notes on the thickness of the yarn - simply put, the thinner yarns will result in a smaller finished animal. The asterisks * are used to show yarns I'd particularly recommend.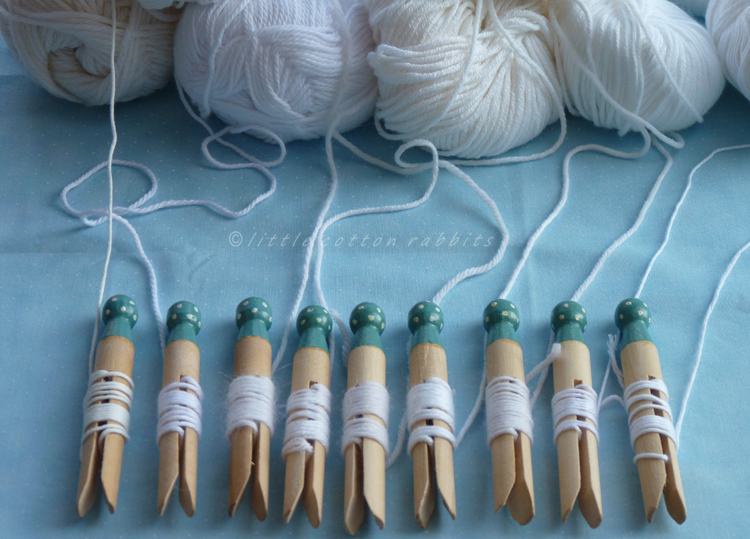 Other yarns that I'd recommend for mouse making include: Sublime baby cotton kapok DK shade 15; Cascade 220 shade 8505 (worsted) and a combination of Debbie Bliss Rialto DK shade 001 held with a strand of Debbie Bliss Angel shade 01.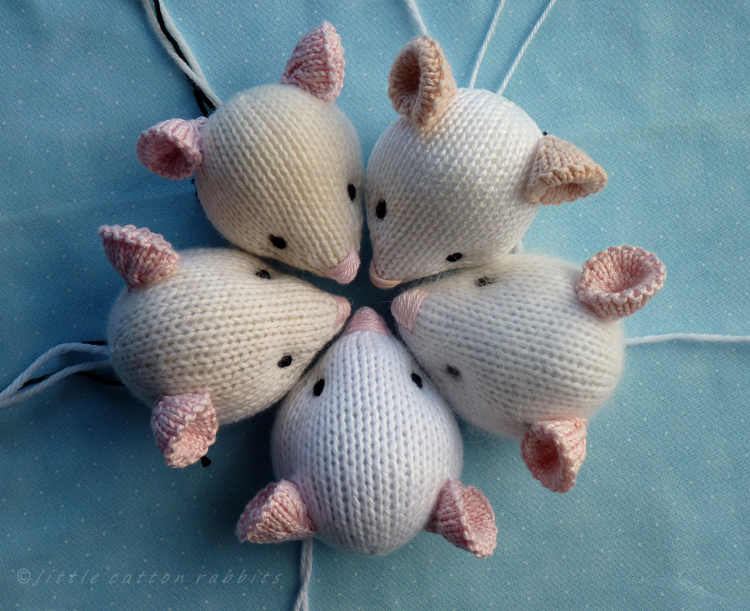 At this point it's interesting to compare the significant differences between yarns in the same weight classification. Below are two heads made with DK yarn, on the left Debbie Bliss Cotton DK and on the right Rowan Pure wool DK. They are both knitted to the same pattern on 3mm needles and stuffed to the same degree of firmness but there is a definite difference in finished size.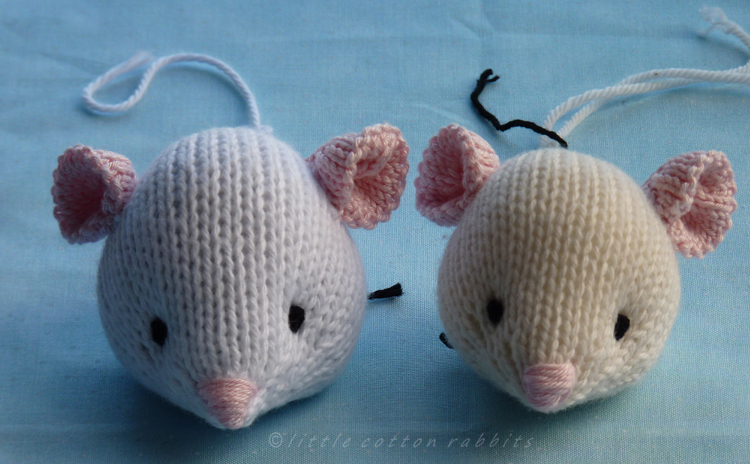 I've been asked a few times by people to give measurements for the finished heads (circumference, length etc) but you can see here how difficult that is for me to do. Throw in the variable of different knitting styles and tensions and it becomes impossible. The most important thing is that if you are the one doing all of the knitting throughout the pattern then everything should end up in proportion even if it is a little larger or smaller than someone else might make.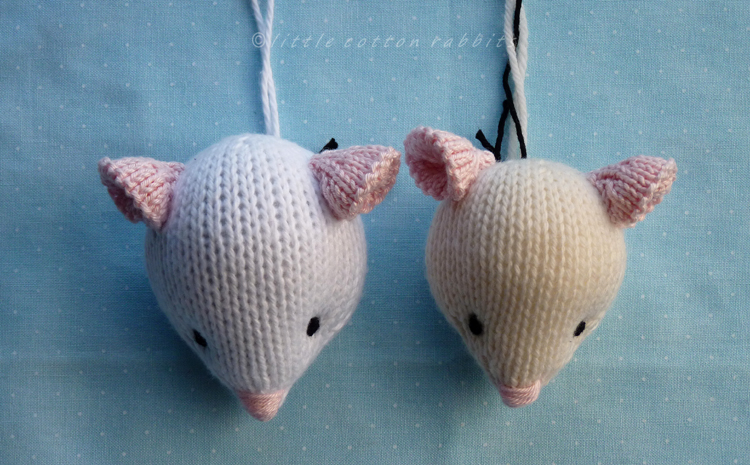 Next I work on the clothing patterns for sweaters and dresses and I often end up making at least 5 samples for each pattern. If I find a mistake as I'm working through each line in the pattern, I correct it, print off a new version and knit a new sample. When I've knitted one through with no mistakes and I know the pattern is correct I make several samples to test out different yarns and colour-ways for the clothing.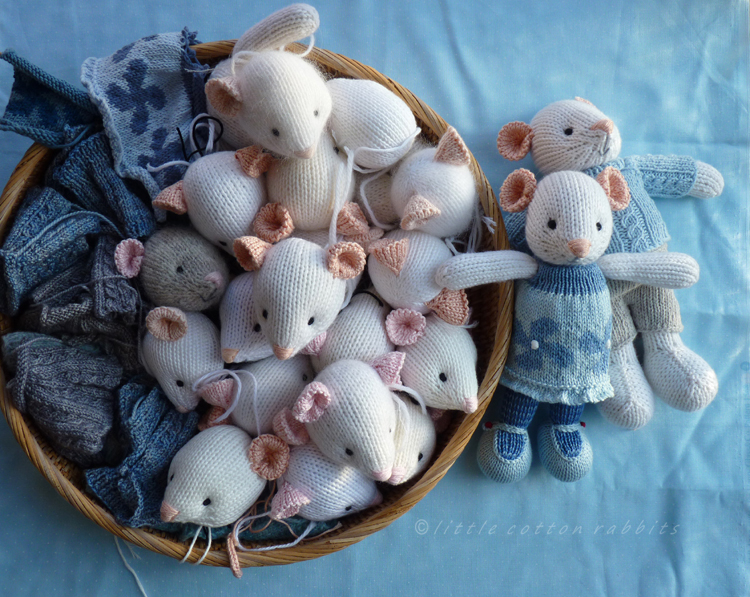 Once the yarns are finalised I make two full sets of animal parts and multiple parts for the step-by-step sequences ready for a photo shoot with H. We usually shoot the images for each pattern over a couple of days as it gets tiring bending over and moving things a millimetre here or there and it's hot under the lighting. We take an average of 2 shots for any static items and 3 shots for each image with my hands in (that way we have plenty to choose from during editing) so there are typically around 160 images for each animal pattern. We edit these images together and I work on the basis that if H as a non knitter can work out what is going on in the image then it must be OK to use! Once we've selected our final set of images H processes them and I do any minor retouching of dust etc. Then I resize everything and compile my step-by-step sequences before dropping all of the finished images into the pattern document.
When all of the images are in place the pattern gets a final read through before being sent out to my trusty test knitters. They usually spot a few things that I've missed as it's often easy to get a little pattern blinded. Hopefully once the test knitters have finished the pattern is all correct and ready to be turned into a pdf and uploaded. I always get very nervous on the first day of launching a new pattern, after all the time spent it can be hard to call it finished and put it out there. Happily pattern releasing usually goes smoothly and it's always a thrill for me to see finished items starting to pop up on the ravelry project pages and know that people have enjoyed using the patterns.
Finally, I get to settle down for a bit of gentle, stress-free knitting (and as much mistake making as I like) before starting to think about the next pattern :)
.............................................
A note about Angora yarn:
This information is shared with the sole aim of helping others make an informed choice of their own...
In December 2013 PETA released a graphic video which brought to light shocking cruelty in some of the angora producing industry. You can read a little about it here:
http://blog.loveknitting.com/angora-wool-is-it-cruel/
I've used angora based yarns to make a lot of my mice over the years and I have a fair bit in my stash. It is beautifully soft and perfect for fluffy mice but clearly there are now concerns about the ethics of producing angora yarn.
I cannot find anything on Adriafil's website about the sourcing of their of Carezza angora yarn (which doesn't necessarily mean it is not ethically sourced) but there are companies who stress their yarn is ethically produced, the most notable being Orkney Angoras (you can read on their site about how they source their yarn).
If you do not wish to use angora in light of this information there are alternatives such as brushed alpaca yarn or mixing a strand of thin mohair yarn (Rowan Kidsilk haze, Debbie Bliss Angel or Drops Kid silk) in with a strand of DK wool/alpaca based yarn to give a pleasing fluffiness.
Thanks to Lynsey for bringing this to my attention.