This week I have been mostly knitting rabbits. Been catching up with orders and still finishing off those ballerinas. Because each rabbit takes at least 2 days to make it's difficult for me to take on many orders but it is something I like doing because it encourages new ideas. I really enjoyed making this little bear. 'Pearl the polar bear' was a commission for a lovely Lady called Jacqueline (who by the way has the loveliest shop - if you like anything to do with tea & coffee then check it out). She just said a bear, sea-colours and left the rest to me (my favourite kind of brief!) I'd just bought some beautiful pure silk yarn (Debbie Bliss) it's gorgeously soft and sheeny and seemed perfect for the job. I think I'll try and make a few rabbits in the same yarn with sequinned dresses - a kind of 'Princess' range.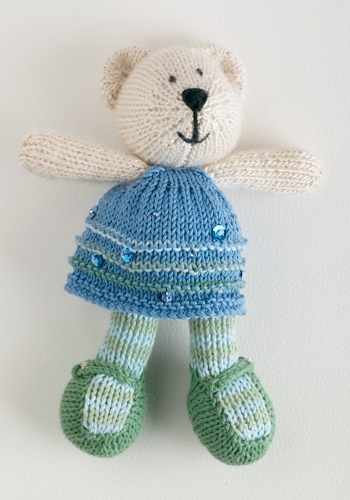 I'm busy trying to prepare for half-term next week. I have a good stock of colouring books for Amy - she loves Rosie Flo books (the bodies are drawn in and you just add heads, arms and legs) and we've got some new blocks on order for Toby. His absolute favourite toy is a stacking pyramid but it's getting a bit battered. He 'liberated' it from nursery last July and since then it's gone everywhere with him - he even cuddles it in bed (I know it's the most peculiar cuddly toy ever!). Huw has finished Toby's birthday present from us and installed it. It's a big wooden spinning disc ('scuse my unfinished mural!).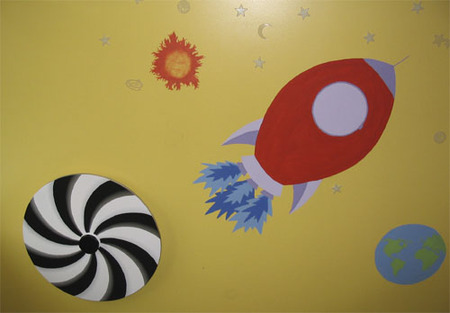 Toby is particulary stimulated by fast movement. Most autistic children have an area of hightened sensory stimulation - can be auditory, visual, tactile etc... Toby is definitely most stimulated by the visual. He's always been excited by watching the wheels of cars go by, watching motorbiking on the telly (takes after Daddy there!) and he loves spinning things, ball runs etc. He adores this disc and gets very close to it squealing with delight as it spins. Personally I get very dizzy when I look at it - it's definitely not one to play with after a bottle of wine!