Well here I am again. Peace reigns and I'm back in the driving seat. During school holidays everything gets turned upside down and I do my best to be 'good mummy' organising activities, constantly conjuring up delicious food and drinks, looking for lost things and trying to ignore the general mess that ensues. Apart from snuffles and colds this half-term passed pretty well. T & A enjoyed 2 visits to our indoor playarea (I was suprised how quiet in was), we did badge-making, cake-baking, leaf-finding, face-painting, disco-dancing (of course), woods-walking, halloween-partying, bed-bouncing and A's favourite - lots of drawing. She's always got ink stains on her fingers (the sign of a true berol pen addict!) and she created some great art for my kitchen walls.This is a pic from her Rosie Flo book - her drawings always make me smile.
Earlier in the week our lovely neighbour Joan popped along with a big bag of cooking apples from their tree - looks like they had a bumper crop. They were so scrummy looking that I immediately donned my apron and made an apple pie - something I've not done for ages. There is something so satisfying about cooking (or creating anything from scratch) and apple pie is so simple but so satisfying, especially with a large dollop of clotted cream ice-cream! Cheers Joan & Alan!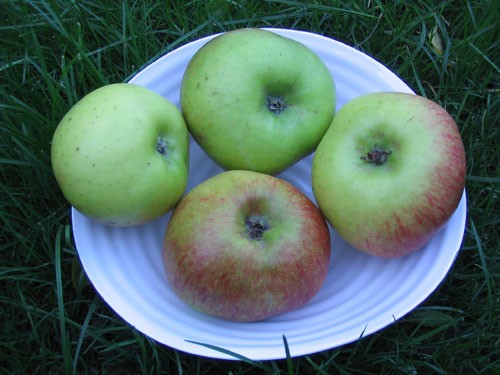 I've been a bit down recently, having had a few copyright issues. There seem to be lots of them cropping up - Hillary Lang wrote her thoughts recently and Joy Bucket has had issues too. Maybe I'm naive but I always expect everyone to behave like "Mrs Do-As-You-Would-Be-Done-By from The Waterbabes (my fave book as a child) and unfortunately life just isn't like that.
Still, I'm heartened by the contact that I have with all the new people I've met through this blog. The more we stick together and support each other, the better chance we have of not being taken advantage of and as Hillary said in her post there are some really kind people out there policing the internet on our behalf. I can just see a new pressure group emerging - the sisters of the righteous needles!