I was thinking (again) this weekend about life before kids and pondering what I'd have been doing on a Sunday morning 10 years ago.
For a start I'd have had a lie-in followed by a long, hot shower, a leisurely breakfast and then a day of gentle pottering. Instead we were up early, and out into the cold to continue our attempts to get Amy riding her bike without stabilisers (a bit of a thankless task at the moment!). Overall, it was a ruthlessly demanding weekend without any relaxation time but, all things considered, I'd definitely rather be here today as a full-time Mum, part-time knitter than back as a working girl.
I had my kids quite late in life but having kids late gave me time to 'throw myself into a career'. My second 'proper job' was as Advertising Manager at Hali magazine. This is one of the world's most exclusive magazines. When I worked there it retailed at £18 per copy (the equivalent of a hardback book) and came out 6 times a year. It was and I believe still is the be-all-and-end-all in antique textiles, ranging from oriental rugs, Navajo blankets, pre-Columbian textiles, Swedish marriage tapestries and everything in between - basically if it's textile and old it's been written about in Hali. During the 4 years that I worked there I had a fabulous time. I travelled throughout Europe and the USA attending antique fairs, major auctions, museum previews, private viewings and visiting clients. I also got to see an incredible history of the world through it's textile art. It's worth checking out the Hali site just for the inspiration, and follow the links to see where they take you.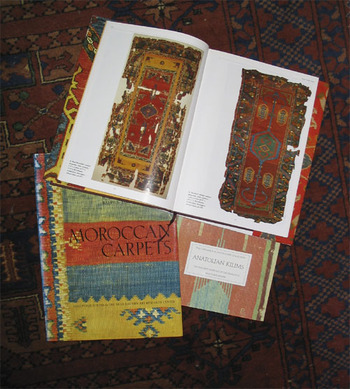 I do have some happy memories of my time there and being in close contact with such beautiful textile art profoundly influenced me. I now have a bookshelf full of books on pre-Columbian mantles, Ottoman textiles, Moroccan carpets and Anatolian kilims, rugs on my wooden floors, salt bags on my walls and a 5 foot wide, home-made copy of a thousand year old pre-Columbian chancay textile (well, we can't afford the real thing and anyway I believe that the originals should be in museums in the country of origin and not on the wall of those individuals rich enough to buy a country's heritage!)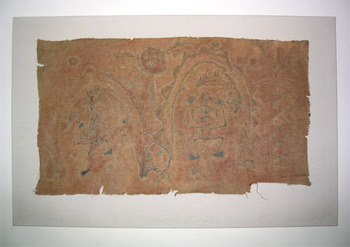 So, given the chance, would I turn back the clock and reclaim my lazy Sunday mornings? Would I hell! I could definitely use a lie-in now and then and it's no understatement that being a parent is the hardest job in the world but, it's still the best!