Well, here we are again. School has resumed and I'm once more free to choose how to spend some of my time. Today I shall be staying in my jammies, feeling sorry for myself (I have a cold), having some uninterrupted knitting time, doing lots of lovely blog browsing and, most of all, enjoying the peace & quiet.
Considering the weather was a bit dismal we had a pretty good half term and that's mainly thanks to my Mum & Dad who provided us with board, lodging and excellent on-site entertainment. My Mum and Dad are brilliant with the kids and are both well experienced at entertaining them with an impressive range of games, crafts, stories and day trips. Dad created a bathtime game for Amy which she adored and he valiantly repeated it for each of the three nights. Mum was tireless in her delivery of multiple bedtime stories and rustled up a seemingly endless selection of yummy food (even more delicious for the fact that I didn't have any part in preparing it - thanks for the break Mum!).
We had some fun trips too - along the river in Henley-on-Thames and a visit to the brilliant Wind in The Willows exhibition at the Rowing Museum. Amy and I loved this 3-D walk through experience with models based on E H Shephard's original illustrations and telling the wonderful story of Ratty, Mole, Badger and of course daft old Toad. On Friday we visited the Living Rainforest Centre in Hampstead Norreys.
This is a fab place for kids to explore and learn. there are animals (crocodile, bugs, monkeys, fish, reptiles and birds), real rain (a fine mist comes down without warning!), monster plants (huge leaves and real bananas growing) and heat (wear layers so you can strip off!). There was also a brilliant outdoor adventure play area. It's not a huge place but there's lots to discover and we had great fun.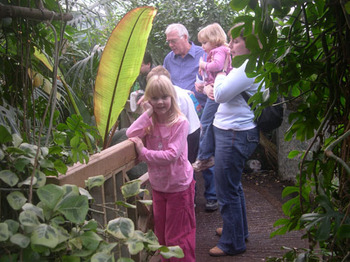 Thanks to my Mum & Dad for putting up with us for 3 days, the noise, the mess and the sheer inexhaustable exuberance of the kids! Hope you're now relishing the peace and calm!