I know I've mentioned it before but reading blogs is an inspiration on all kinds of levels - creative, personal and lifestyle. One of my favourite blogs is written by Rebecca and reading her blog and others has definitely made me more aware of the impact of modern living on the environment. Here in suburbia we don't have a very big back garden and even if we did work over it and try and grow some veggies they wouldn't last long with the Tobster around. Growing some of our own is something that I hope to do in the future but for now I have just been wanting to get away from buying my fruit and veggies from the big supermarkets with their green beans from Kenya, stawbs from Israel and so on. I've been frequenting farmers markets around here but the local one is only monthly. So when I received a leaflet through my door from Abel & Cole it seemed like destiny and I decided to give them a try. They pledge to supply quality organic produce, which is ethically produced, with zero airmiles, in reusable packaging, free delivery and supporting UK farmers ....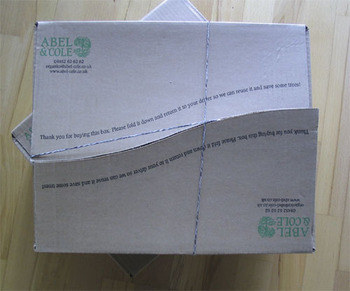 I've now had deliveries every week for the last 5 weeks and I am a convert. After being used to sanitised veggies, marshalled in perfect little rows in plastic trays and swaddled in layers of clingfilm it took a little getting used to a box full of mixed and slightly-muddied produce but now I quite like it - I just store them dirty and wash them before use. The nice thing is that you know what you're getting and can substitute things you don't like. You can also order single extra items either as one-off orders or weekly.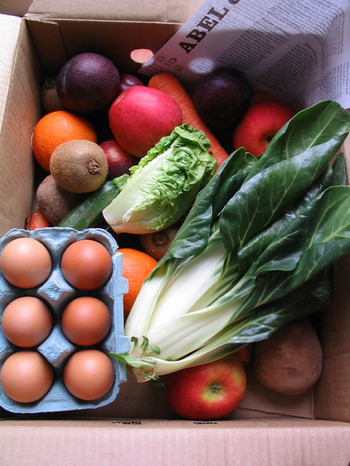 The day my delivery arrives on is now known as chopping day. This week I've cooked up a big vat of minestrone soup with the goodies from this week's box - Swiss Chard, carrots, jerusalem artichokes, potatoes and courgettes.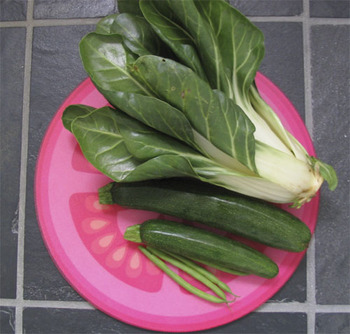 I'm certain that these veggies taste so much nicer than those I was previously buying from half way across the world and it's making me try new veg (have never cooked with jerusalem artichokes before!). If you are looking for organic food that is affordable, ethical and delicious please check them out - I'd certainly recommend them.