I am so rubbish at taking up tags so I'll start by thanking and apologising to:
The Mighty Sally, Marie Chantal, Claire , Little Jenny Wren, Jane, Samantha  and anyone else who has tagged me recently or otherwise!
I ramble on so much here that it's difficult to think of things that you might not already know about me but here goes:
Like Jenny, I was regularly mistaken for a boy when little, largely due to a misguided Mummy weilding haircutting scissors (thanks Mum!) here is the photographic evidence (it's a wonder I grew up to be so normal!!!):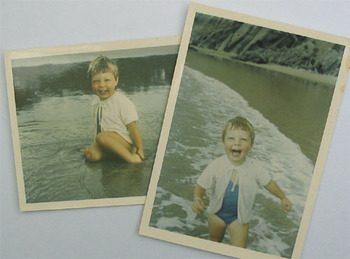 Staying on a hair note, I quite like the fact my hair is now going grey - I've not had it coloured now for 5 years (despite intense pressure from my friend Karen). I don't mind that my body is aging and am quite comfortable with all the sagging, wrinkling and greying going on.
I find polka dots very pleasing in all shapes and forms (here's a recent attempt at knitting them)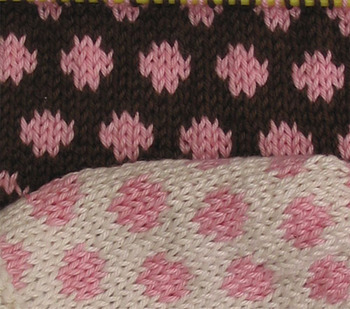 I didn't learn to drive until my 30's and failed my first test when I crashed into a roadsign! I still maintain that it was because I couldn't turn the steering wheel properly, being nearly 8 months pregnant at the time!
I have a really good memory for anything that rhymes - poetry, song lyrics etc and can recite most of the Miffy and Dr Suess books from memory. A useful party trick (well children's parties are the only kind I get to go to these days!)
I hate ironing (and most other forms of house torture work). I do however love cooking which is far more creative and satisfying than window washing or dusting.
Despite vowing as a teenager never to grow old and boring and watch nature or gardening programs I find that I am really enjoying the coverage of the Chelsea flower show this week and my favourite tv programmes include Coast, stuff on the history channel and anything with David Attenborough (there you go M&D - I've become enlightened in my 40's!!)
I'm throwing in an extra fact simply because I like this picture that I took recently and couldn't think of another way to use it. My favourite colours are red and blue, especially in combination.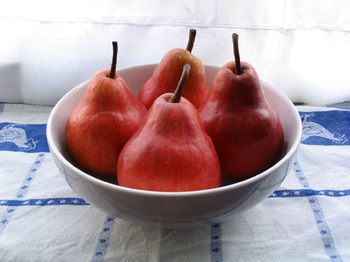 I'm going to be rebellious and not tag anyone, it's taken me so long to take up the tag (Sally tagged me in January - I'm sorry it took me so long Sally!) and most people have done it by now anyway! Also my little man is off sick at the moment with Green Snot Virus so I have to go and play nurse now!