I hadn't really intended to be away for so long but it was half term here last week so I didn't get my computer time - instead I was entertainments manager for 2 small people! We even managed to get out in the garden for some bouncing - it's lovely to see the blossom on our old plum tree and know that spring is on the way!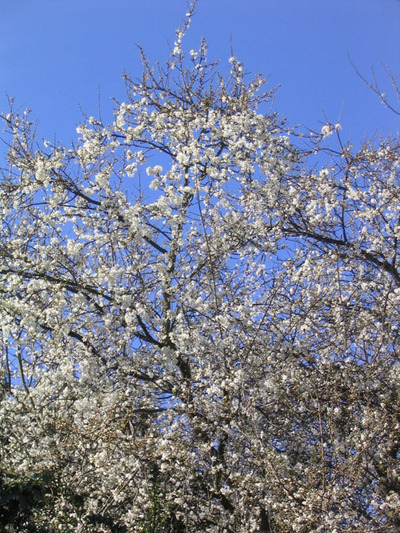 After a few days at home we headed off to stay with my Mum and Dad and had a lovely time. Mum is doing so much better and is working hard at her physiotherapy (after she broke her neck in a serious fall last autumn and had to wear a halo device for 3 months). There is still a way to go before she's as flexible as she used to be and her back gives her some pain but she's so determind and is an inspiration as is my Dad who has become quite a dab hand in the kitchen!

Now that the kids are back at school I'm pressing on with knitting again. I'm not sure when I will have the next sale of toys / cakes as my situation has been complicated with an encounter with the Inland Revenue. I don't want to go into great detail but I'd advise anyone making and selling anything in the UK to look into whether they should register as self-employed and not assume that you only need to declare any income if it is enough to pay tax on! Anyway, when I get all of my paperwork finished and know exactly where I stand I'll email my advance list with full details before the next batch of toys are sold.
Thanks so much for all of the emails I've had recently, I will be working through them this week. Thanks too for all the lovely blog awards that have come my way - I'll do a post and pass them on shortly.