If you've been reading my blog since last summer you may remember little Herbert Hogwart the baby hedgehog that we took in and fattened up. You may have also noticed that I've not mentioned him recently and that is because I was rather worried that something might have happened to him. You see he was still popping out of his little house for his 'breakfast' each night right up until the start of January and then one day his food remained untouched and the hay I placed lightly over his front door stayed exactly where it was. After a week of the same I thought (and hoped) that he had probably hibernated but it wasn't especially cold at the time and so a part of me feared that he'd met an untimely end under the wheels of a car.
I've been studying the entrance to his house ever since and occassionally leaving out food but with no sign of him at all. Then 3 days ago there was this...

... a hole in the hay and an empty dish. So, he's ok!
I've decided to let him wake up in peace rather than shoving my camera in his face so I've no photos of him but I do have one of this wonderful little hedgehog that the lovely Kat sent me at Christmas time.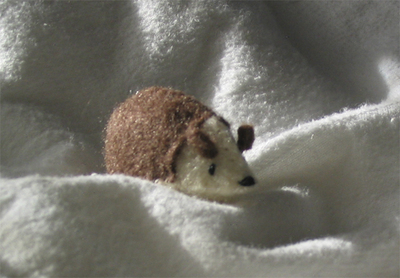 He's from Blossom Hill Cottons - definitely worth a visit if you like your animals super tiny and super cute!