It's been a bit of a strange week here as our routine has been thrown out by Toby's school play. It happens once a year and means that he goes to school between 4 - 9pm for the middle three days, having his tea there and then doing a performance. He's coped (just) and although I've not managed to get anything done all week (other than keep him entertained) I've enjoyed having him around - just him and me, and I've been able to concentrate on him without feeling that I'm leaving Amy out. On wednesday evening Amy and I loved seeing him in the play. Toby was quite bewildered by the whole thing but not upset and some of the older children were really amazing and gave a joyful and spirited performance despite some severe disabilities - there wasn't a dry eye in the hall!
Anyway, because of the change in routine I'm really behind with replying to emails (again) and not much knitting or housework has been done. I did manage to make some real cupcakes though (inspired by a picture I saw over at Dotty Cookie of some cupcakes Ali bought) and I was really pleased with how they turned out. I just made a regular victoria sponge cake mixture, plopped spoonfuls into individual cases then swirled half a teaspoon of strawberry jam through each one and baked as usual. I topped them with pale pink glace icing and a dried strawberry (I couldn't get the freeze dried kind so settled for the chewy dried ones).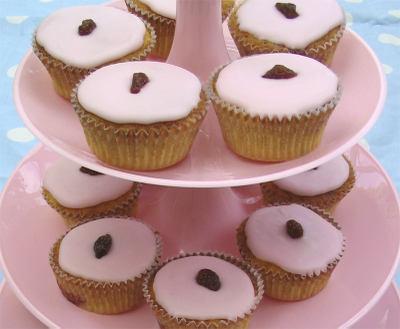 They went down a treat at Amy's school afternoon tea and looked quite appropriate as we were raising money for breast cancer charities.
Have a good weekend, it's a bank holiday here and looks like rain so we'll be bed bouncing!