So many wonderful comments on my anniversary post! It's at times like this that you realise the inadequacies of language - so I'll just say it again, wow, oh WOW! I've so enjoyed reading each and every comment. It's been lovely recognising familiar friends and getting to know lots of new ones.Thanks so very much to everyone who took the time to comment.
So, on to who won. Random number generator do your thing...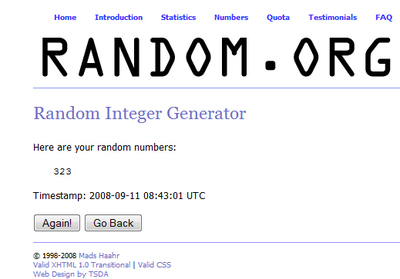 Which by my carefully triple checking is Debbie momoftwoboyz (in Alaska I think?).
I'm sorry that there can only be one winner, I feel I'd like to do more so I am planning another smaller giveaway soonish. I'm in the middle of writing up the pattern for my cupcakes. When it's in pdf format we'll have a draw to give away the first couple of patterns. I hope you'll stick around and watch this space!