Once, long, long ago in what seems like a different lifetime I used to go out lots. Lunches, meals, drinks, trips to cinemas, galleries and extended shopping trips - the world was my oyster whenever I fancied it. But these days, what with balancing the various needs of my family, going anywhere without a nappy bag is rare occurance. Which is why I had such a nice time last friday. Off I set on a trip into the countryside with the colours of autumn whizzing past the car windows and singing at the top of my voice (because the sun was shining and Amy wasn't in the car to tell me off). First I stopped off at Jolie for a browse among beautiful things and to stock up on some knitting supplies (it's the best stocked wool shop for miles and miles!) and bought some lovely things courtesy of Mary who had sent me a voucher (thanks so much Mary). After much deliberation I chose some kidsilk haze for a simple scarf and an irresistible new mug for tea.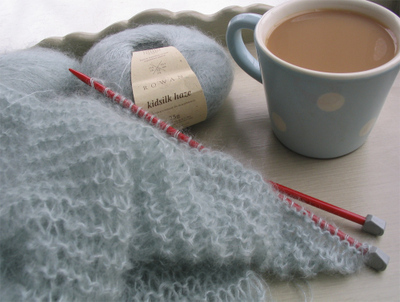 Then it was off to Westmill and the sweetest little tearoom with tablecloths, proper pots of tea and homemade cake and as if that wasn't enough I was meeting a special person too. Well two special people actually - Dotty Cookie and her daughter Tiny Small. We had a lovely elevensies together followed by a wander around the pretty village and the ancient church.
To top it all off there were pressies too: the tiniest pair of rabbit sized knitting needles with a project ready on the go (there's even a perfect weenie ball of wool on the end) and also a me-sized set of beautiful stitch markers.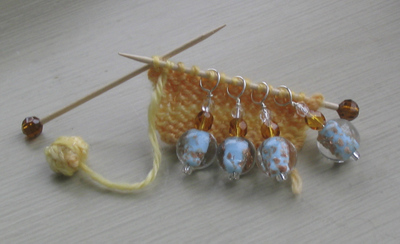 It was lovely to meet you Val, thanks for taking the time to drive down and for the very cute pressie!