Thanks so much to everyone for all of the very kind comments about the pattern. I've used the old random number generator thingy again and it has pulled 20 numbers out of the ether: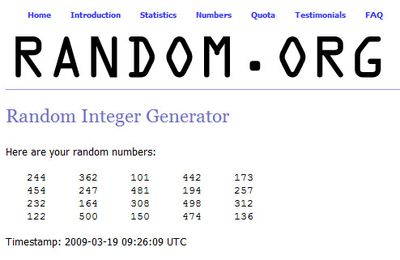 Which translates to:
Donna Ferrara, Tracy (She's the sweetest...), Edel, Emma (I'd love to win...), Svenja, Jess (Adorable...), Mila Tamaoka, Nina Chester, Helen (Pick me..), Tatyana, Kelly (I'm crazy...), Nancy (You're such a talent...), Nicole (Adorable...), Margaret Lifgren, Allison (Makes me smile...), Gillian (Very Easteric...), Janet (How lovely...), Karen Stevens, Marie (I'm so happy) & Robyn (I'd love a chance...).
Copies of the pattern will be emailed to each of the winners shortly and then I'll pop the pattern into my Etsy pattern shop.

I've decided to run 2 etsy shops from now on - the one above will list patterns for sale and I hope to add more soon. The second one LCRknitted will just list finished knitted items. I have several egg cosies to list over the next week and am finishing off some animals and cakes to add soon too.

Now I'm off to have a cuppa and rest my eyes after all of that counting comments! Many thanks again for all of your interest and support.