Well, the summer holidays are over, the children are back at school and my living room is once again echoing to the sound of clicking knitting needles! At this time of year it's become a bit of a tradition for me to start thinking ahead to christmas and so my knitting bag at the moment is stuffed full of reds, greens and creams and I'm having fun with those nordic motifs that I enjoy so much. I like the challenge of coming up with different ideas each year but there are some favourite patterns that pop up a few times.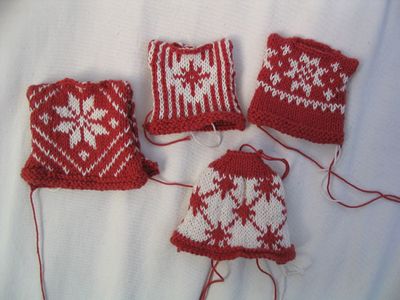 :: 2007 ::
:: 2008 ::
:: 2009 ::
This year I've been having fun trying out some new reindeer motifs and I have a few other ideas yet to be put into yarn. It does seem a shame to be turning my back on the summer already but there's something nice about autumn's approach with it's promises of log fires, frosty mornings and warm socks!
If you're around later in the week please pop back and visit as I'm planning a little giveaway to celebrate the start of my fourth blogging year!