Toby has been quite poorly over the last week and a half. He's gone for days without eating and has not been sleeping much but it's been hard to know what is wrong - no temperature, no sickness - just lethargy, paleness etc. Of course he can't tell me how he feels but it's been clear he's not the little chap we are accustomed too. Still he seems to be on the mend now - he's now eating a little and hopefully the sleep will follow soon!
Anyway, this coupled with the murky, dull weather that has followed the snow melt has left me feeling a little blue and so to cheer myself up I'm making myself a cardi.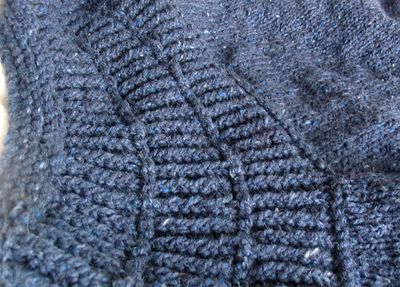 It's been over a decade since I knitted anything for myself other than scarves or mittens and I'm quite excited at the thought of wearing it. The pattern is Shalom - a generous freebie from Meghan McFarlane and is a quick and simple knit made with nice chunky needles and knitted from the top down. I'm also pleased as I was able to use up some of my attic stash - a bag of Annabel Fox Chunky Donegal, vintage 1993!