Last weekend I had a little sale of my latest batch of knitted animals and again it highlighted the complexities of trying to keep everyone happy.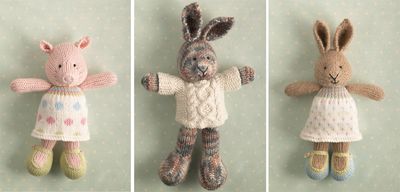 The problem is that my little mailing list has been growing and growing and the number of finished items I'm able to make is staying pretty much the same from year to year. Anyway, I've been pondering and I thought we'd give a regular lottery a try.
If you'd like to enter please leave a comment below. I'll draw one name at random and either give them a choice of what I have ready at the time or offer them a special order. This isn't a freebie giveaway so the person selected would still be required to pay for the animal (around £25 plus postage) but I'm hoping it will give a few of the people who've been missing out on my sales a chance to buy one.
I'll also continue to list a few at random on etsy and have timed sales on the blog from time to time and I'll keep the mailing list up to date with details of these.
This draw will close at 12 noon on March 31st 2010.
**Please could I ask that you only leave a comment below if you don't already have one of my animals, thanks.
------------------------------------------------------------------
Update March 31st
Sorry for the delay in posting. The random number generator came up with 74 which was Gwen. Many thanks to everyone who took the time to comment.
I'll continue to do a monthly draw over on my shop blog so please pop over there if you'd like to enter for April