This week we are eating exceptionally well, thanks to this family feast box that arrived last friday courtesy of Laverstoke Park Farm.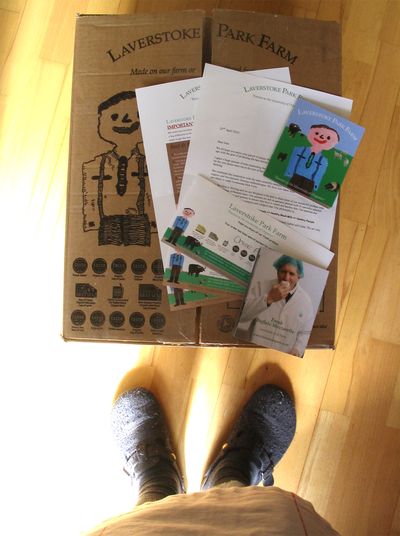 It was full of very fresh organic meat: a medium chicken, 12 pork chipolatas, 4 lamb leg steaks, 4 pork loin steaks and 500gms of beef mince.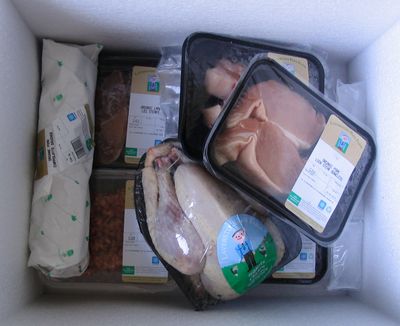 The sausages were the first to go (they're Amy's absolute favourite) and we ate half of them on friday night like this:
...baked in the oven at the same time as a separate tray of peppers, onion, courgettes and mushrooms all splashed in olive oil. Then I chopped the cooked sausages into chunks and stirred together with the roast veggies and 2 big tablespoons of homemade pesto and mixed everything into some steaming hot pappardelle pasta. 
On Saturday lunchtime the other half of the sausages were coaxed from their skins and rolled gently in little blankets of butter puff pastry and popped in the oven to make my favourite - hot sausage rolls.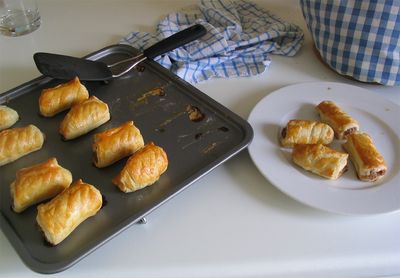 They were definitely the meatiest sausages we've tasted, very succulent and tasty and not greasy or gristly at all. Amy gave them 10 out of 10, and she's a sausage aficionado!
Sunday saw the turn of the chicken - roasted and plumply delicious. I really noticed the difference in flavour to the supermarket chickens that I normally buy. And we still have the lamb, pork and minced beef to look forward to.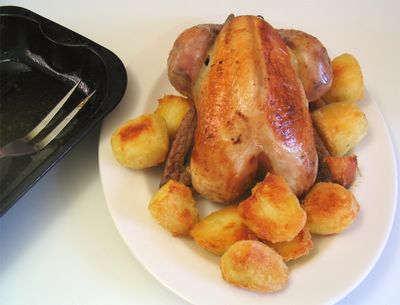 So, why am I telling you all of this? Well those rather nice people at Laverstoke Park Farm (including the very lovely Alice of Raspberry who now works there) have given me a special code to pass on to you so that you can try the family feast box for a specially reduced price of £39.99 excluding delivery (saving £8.60). Just enter this code LPFFB1 in the discount code box on their shopping cart page to redeem the offer and you can use it as many times as you like until May 31st.
If you've ever thought of giving organic meat a try then pop over and take a look. It's our first time and I'd definitely buy again. Although it is more expensive than intensively farmed, supermarket fare we were really struck by the very noticable difference in quality and taste and I really admire their very ethical food production.