Well, as expected the bank holiday was a rather wet and windy one. There were a few sunny spells to tempt us outside but we were soon running back in again as yet another April shower swept over.
Still, it left plenty of time for knitting and I had a sudden urge to try out this wonderful free strawberry pattern.
It proved very addictive and soon I had quite a few. On some of them I kept going on the i-cord and added a leaf and flower at the other end to make bookmarks (not my idea - inspired by many of the creative adaptations over on ravelry).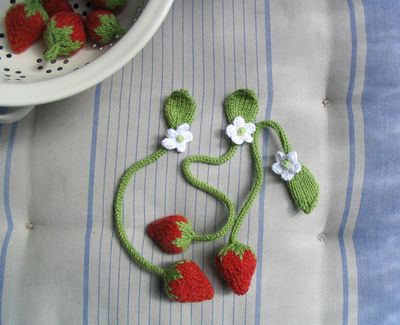 I have a little bowl of knitted strawberries now sitting on the table and they're making me smile and think of the summer to come. I hope it arrives soon!
-----------------------------------------------------------------
The flower pattern is here and the adaptations that I made, yarn used etc can be found on ravelry.