Thanks so much for the lovely welcome back. Things here are settling nicely back into a manageable routine and although Toby isn't yet calm and content he's definitely changed his mood for the better.
I've really enjoyed picking up the needles again and have finished off mr Ro-bot who has been delivered to the reception class teacher at school in time to meet this year's new children. I love the thought that he'll be a friendly helper in their learning.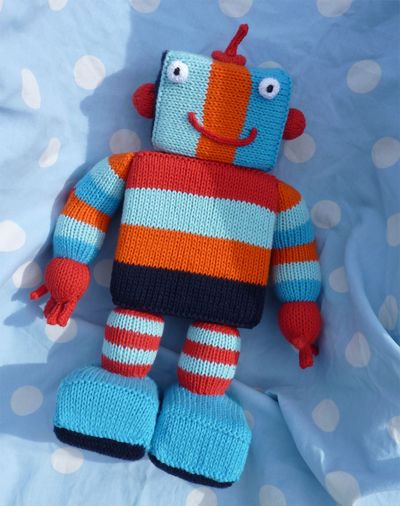 At the moment I'm not going to write up a full pattern for him but I'll run you through how I made him. I used 5 different shades of Rico Creative Cotton and 3.5mm needles and I do have some of each shade left over so 5 balls is plenty. I used 2 decorator / car wash sponges which were approx 13 x 20cms and 5cms deep. I chopped one sponge in half and used 1 half for the head while the other half I cut in half again to make 2 feet. I trimmed the second sponge for his body. I have this sketch which shows how I constructed the blocks (these measurements were for the feet and the head and body were larger).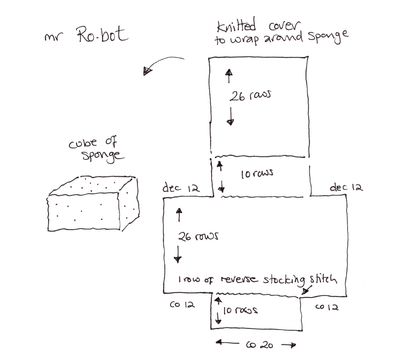 For the legs I cast on 28 stitches and worked 20 rows alternating between 4 rows of 2 separate colours. I sewed the back seam up to make a tube and then sewed this to the top of the foot before stuffing it firmly and then sewing it to the finished body. The arms were just my knitted christmas stocking pattern with more rows at the end to form the hand. I ran a length of thread through the back of the knitting at the wrist to gather it in and tied it off after stuffing the hand before finishing sewing up and stuffing the arm. The fingers were i-cords of 3 stitches and 8 rows.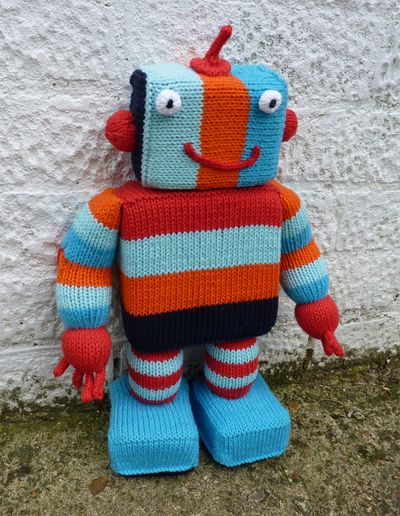 The 'ears' are knitted in the round - starting off with 20 stitches and over several rows decreasing until 8 remained then gathering the remainder to make a sort of bobble and stuffing them before sewing them to the sides of the head. I did the same with the antennae but carried on until 3 stitches remained and then did a short i-cord. I didn't stuff the bobble but squashed it flat and sewed it in place. The eyes are knitted bobbles in white 4 ply yarn and the smile is a 6 cm i-cord in 4ply yarn and 2.5mm needles sewn on.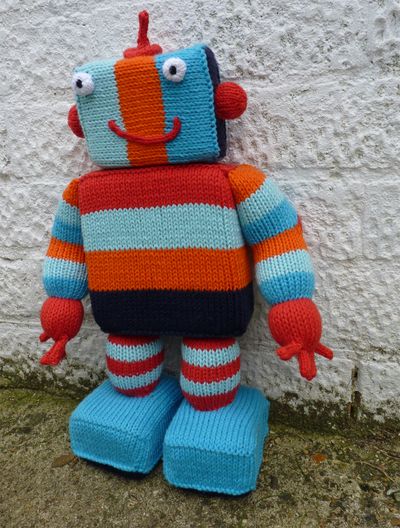 If you wanted to make a similar robot of your own I'd start by cutting your cubes of sponge up first. Then cast on as many stitches as you think you'll need and match your knitting to fit - that's what I did but I didn't keep decent notes. I do remember that I put a reverse stocking stitch to mark the corners as this gives the knitted fabric a natural right angle bend.
If I get the chance to make another one in future I'll keep better notes and try to write up a proper pattern to share.