It's been dawning on me that I'm not doing too well with my new year's resolution to look for the best in each day. In theory it's a simple one, but in practice I find when I sit down at the end of the day my mind starts going over all of the negative bits. So I started thinking of ways to make me focus on the positive moments and I think I've come up with a way to end each day on a happy note.
It was love at first sight when I saw Solveig's gorgeous blanket but at the time I was all cack-handed on the crochet front. Now I've got a few crochet projects under my belt and I feel ready to take on a bit of a challenge. I'm going to take it slow and steady, just doing one square at the end of each day and as I work on each one I'll be mulling over the day's good bits.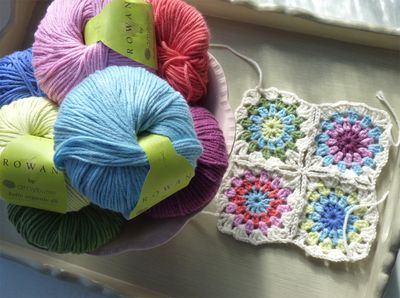 For my one-a-day blanket I've chosen Amy Butler's Belle Organic DK yarn by Rowan because I love the softness of it and I've decided on a limited palette, using just 7 of the gorgeous collection of colours: Robin's egg, Cornflower, Peony, Hibiscus, Persimmon, Basil and Cilantro along with the main colour 'moonflower' which is a cream.
I know it will take me most of the rest of the year but at the end of it I'll have a lovely blanket (well hopefully if it turns out even half as nicely as Solveig's) and I like the idea that it will be made with happy thoughts in my head.