I have a host of knitted animals in my 'in progress basket' at the moment.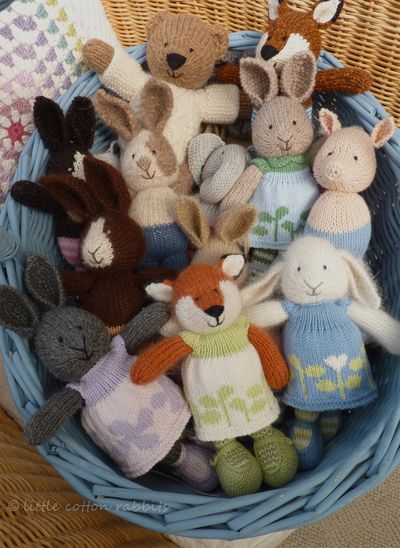 They're all waiting for little bits and pieces; a dress or jumper, a few french knots here, a button or a tail there.
The little bear at the back is shortly going to be a raffle prize over at Saving Rare Breeds. He's made from organic rare breed yarn (Manx Loghtan) and has an organic wool aran jumper. If you'd like to be in with a chance of winning him or if you'd like to see the lovely selection of other raffle prizes that they have please follow this link. They do so much good work for dying breeds and they'd really appreciate your support.
This is where I've been spending most of the last week, with my bottom parked in that wicker chair, my little radio turned to chill and my fingers working hard.
I like to have my collection of needles near by, ready to dip into when the need to start a new project strikes, but for now I'm trying to focus on the animals in the basket and not get distracted from finishing them off soon!