Well, you'd never think it by the weather (which has been far more March flavoured than July) but here we are again at the start of the long summer break. This one is slightly different as it marks a major transition point for Amy, who says goodbye to junior school today and is getting ready to be a senior from september. I'm so grateful (and relieved) that she's incredibly excited about it.
As usual we're not having a family summer holiday because it's just too difficult with Toby so I'm whipping up a little summer holiday kit for Amy including a batch of summer holiday vouchers - lots of little fun things that we can do together while Toby is at summer clubs or being looked after by H. I had thought Amy might have grown too old for these but she informs me she'll never be too old for them and it wouldn't be summer without them! This year treats include regulars like camp out in the garden, berry picking and trip to the farm shop, shopping trip with £10 spending money, lunch at a restaurant, trip to the cinema, picnic with a friend, trip to a museum, sleepover with a friend etc.
If you'd like some to use with your own family, you're welcome to print some off from here Download Vouchers
Anyway, there have been a few breaks in the cloud today so I'm off to spend the last few hours of peace at the end of the garden with my one-a-day blankie which continues to grow slowly but surely.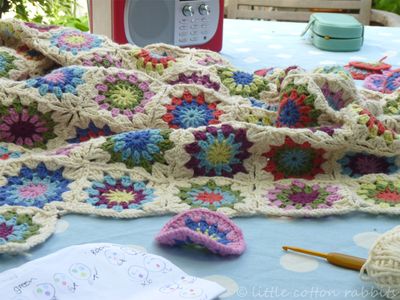 Wishing everyone a good summer/winter depending on your hemisphere. Will pop in here when I can, so see you soon  x
........................................................................
PS: Thank you so very much for all of the kind comments on the previous post. Comments I'll treasure and am very grateful for. I hope I didn't make anyone who has simply asked about patterns for the animals feel bad for just asking - that was not my intention. I just wanted to explain some of my thoughts and feelings x