Well despite the lack of chill in the air these past few weeks the leaves have started changing colour and the clocks have gone back, so it feels that autumn is well and truly here again. Its arrival has made me want to get ready for winter and I've been making lots of soup for the freezer. Soaking split peas for split pea and ham soup (from River Cottage Everyday)
and roasting butternut squash for Squash & Cumin soup (recipe from my mum)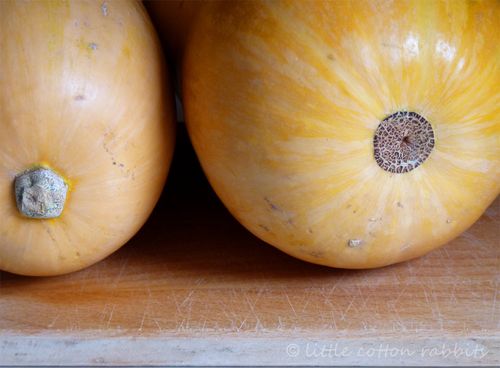 To serve 6:
3 teaspoons of cumin seed
1 teaspoon of coriander seed
1 teaspoon of caraway seed
1/2 teaspoon of cayenne pepper
olive oil
1 medium squash (either butternut or onion) around 1kg in weight
2 large onions
3 garlic cloves
50gms butter
750ml stock (vegetable or chicken)
220ml creme fraiche
salt and pepper to taste
Preheat oven to 190 degrees / gas mark 5. Cut the squash in half and remove all of the seeds, place in a roasting dish, drizzle over the olive oil and bake in the oven for up to an hour until soft. Toast all of the spice seeds in a dry pan and grind to a powder.
Finely chop the onions and garlic and sweat in the butter until they are soft and translucent. Set aside until the squash is done. Scrape the roasted squash flesh from the skin and put in a deep pan with the onions, ground spices and stock. Simmer for a few minutes. Add the creme fraiche and blend to a thick, smooth soup. Good to eat with warm crusty olive bread.
Even my knitting has been touched by autumnal colours - I've been working on a very soft and very decadent new scarf in gorgeous pure cashmere (Jade Sapphire 8ply cashmere in Chamomile). I've gone for a very simple garter stitch because when the yarn is this special I don't think it needs fancy stitches.
These autumny pursuits have inspired Amy and I to write another bit of kitchen poetry...
When autumn comes a-knocking
Amy and I make soup,
We also kick through fallen leaves
and shop for yarn at Loop!
 Poem by Amy & Julie
Making preparations for winter is something lots of people are doing at the moment and there's a wonderful project just started by Silverpebble and Thriftyhousehold called Making Winter which aims to celebrate all of the lovely things that winter brings. So if you fancy sharing some of your favourite wintery things pop over and join in x