I'm still rather astonished at all of the comments that I received on the previous post for my little giveaway. When I started this blog in 2006 I didn't really know where it would take me and I certainly didn't imagine for one minute that I'd have so many people around the world who were interested in the little things that I love to make. I don't know how to  begin to thank everyone for the kind comments and for keeping me company here, I am so very grateful.
After all of the recent bunny knitting I've been enjoying dipping back into some of the other unfinished projects that are lurking in baskets and bags around here. In particular my old china blanket which was supposed to be a one a day project but has been a little neglected of late. Back in October it had 49 squares...
Today it has 68...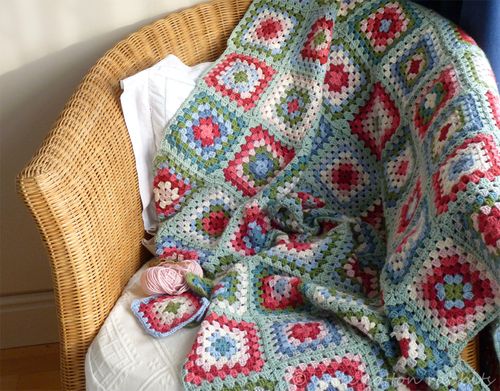 Still, it is progressing, even if the pace is a bit slow. I've decided that I'm aiming for 99 squares (9 x 11) with a wide-ish border of some sort. I had hoped to have it finished by Christmas but I'm beginning to suspect it won't be, especially now that we've entered the final run up and there are so many other demands on my time. I have also begun to suspect that it will in fact not be mine when it's finished as someone around here seems to have taken rather a fancy to it!
Still, that's what it's all about really, it is a lovely feeling when you've made something that someone else treasures.
Wishing you all a stress-free week, may all your Christmas shopping trips be successful!