Earlier today Amy and I joined around 180 others for the 10K walk to raise funds for CHIPs (the children's charity that runs clubs for special needs children that Toby attends). We'd been closely watching the weather forecast all week and it had been getting steadily worse. By yesterday gale force winds and heavy downpours were predicted and it's safe to say that I wasn't feeling very excited about the prospect of walking 10K in those sort of conditions. But when we arrived that feeling started to change because there was such a warmth and enthusiasm in the hall where we all gathered to do our warm up. Some walkers had even dressed up especially...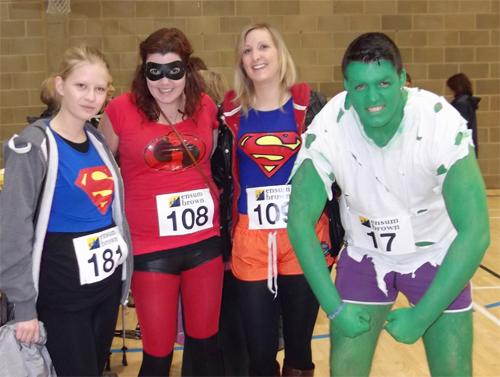 These are some of the lovely CHIPs people who take care of Toby
My lovely friend and organiser Hazel did a brilliant speech and warm up routine for everyone and then we were off, out of the warm dry hall and into the wind whipped rain. I had planned to walk with Amy and we were together at the start but she is young and fit and has long legs so it wasn't long before she left me behind, (far, far behind).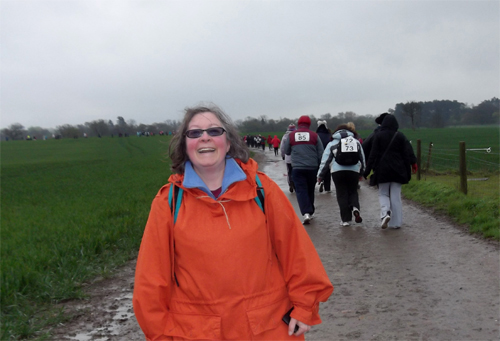 In fact when I finished the walk (rather near the back) I found her and her friends already in the cafe eating cake. The three of them actually finished 3rd overall in a very respectable time of just under an hour and a half.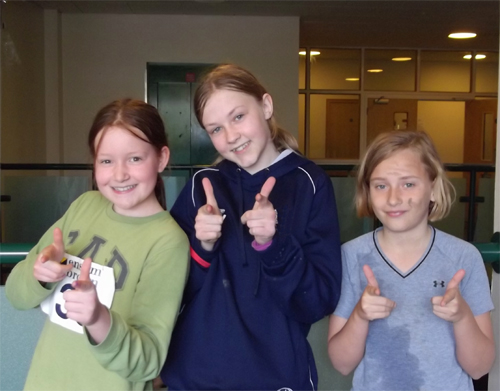 There was such a great atmosphere and despite the awful weather a lot of people turned up to walk. We all gathered for tea and cake afterwards (it was the thought of cake that had kept my legs moving over the last 3 kilometres). There was a raffle, a lot of hugging and congratulating and I was enormously touched to be awarded a trophy for raising the most money.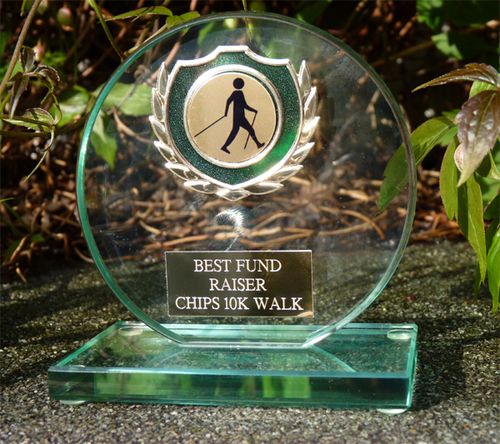 But I can't claim the credit, because it was you lovely people that did that. So here is the trophy that I accepted on behalf of the kind and generous readers of the little cotton rabbits blog.
Thank you everyone - you are the best xxx
(And as you can see from the trophy picture the sun has come out now the walk is over!)
.........................................................................................
Update: Tuesday 1st May
I've just used the random number generator to select a recipient of the little spring bunny from all of those that generously donated to our sponsored walk. It's drawn number 85
Which is Brenda Allen.
Many, many thanks again to everyone for your wonderful kindness x