During the darker, colder evenings of last week I managed to finish off the misty afghan.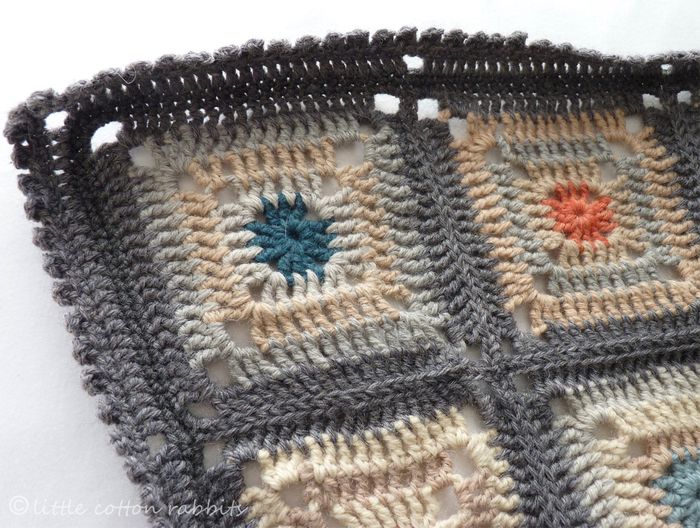 If I'm honest I am a bit previous in saying 'finish off' because I'm ignoring the fact that there are still lots of ends to sew in on the back. From the front it looks finished though...
I'm really pleased with how this has turned out and it's my favourite blanket so far. I love the muted colours and I'm enjoying looking at it draped over the sofa or on the bed.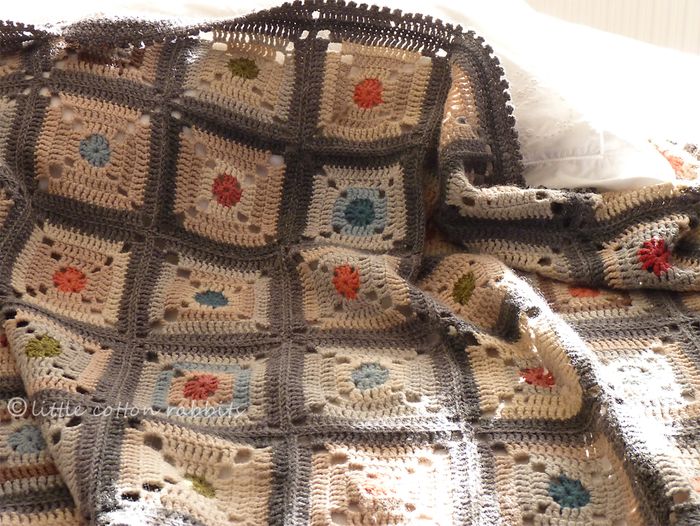 I'd definitely make another blanket in Cascade 220 - it's a nice yarn to work in and is very reasonably priced which is a good thing considering how much you get through when blanket making. I want to take a picture of the whole thing but I need to hang it up somewhere outside and it's just been too damp and dull to get any decent pictures. I'll keep trying and will post any new pics on my ravelry project page.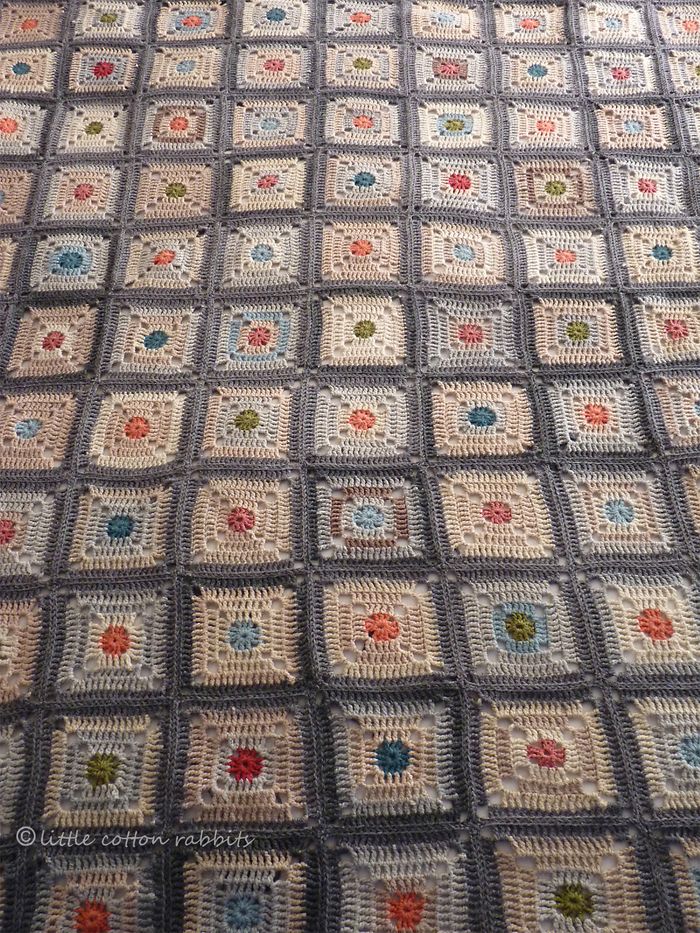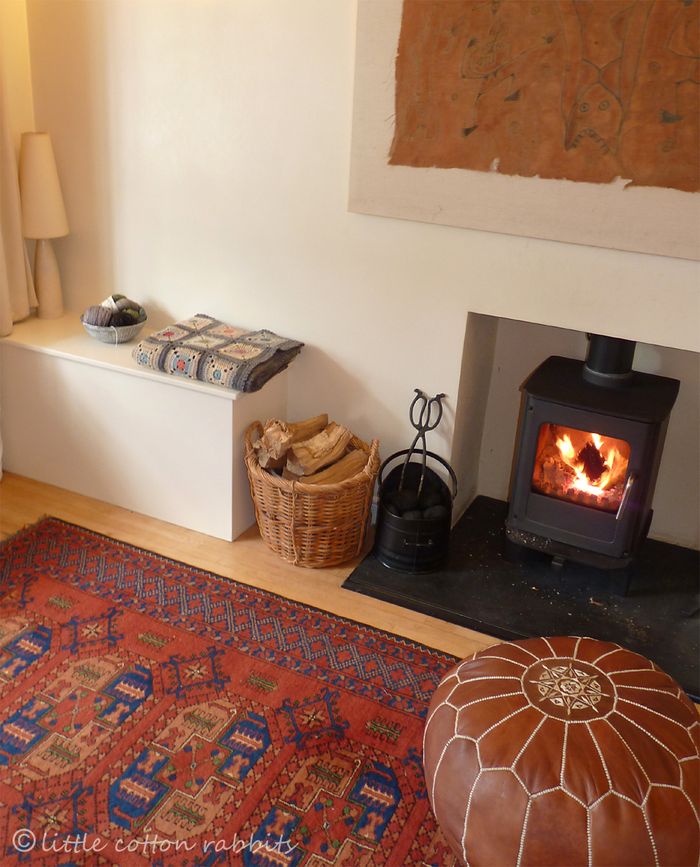 Thanks for coming back to visit despite a longish break from me (again!) and thanks too to those who have emailed me and asked about Toby. At the moment I am being reminded that he finds life harder in the winter months than the summer ones. He has hardly been out in the garden at all during this last month, disliking the feel of wet surfaces and finding the ground too cold beneath his feet (he simply won't wear shoes to go in the garden - in his mind those are what you put on to go out of the front door not the back door). It will probably be spring before we hear the squeak of the swing ropes or the creak of the trampoline springs again.
Without his garden playtime Toby gets more easily agitated and frustrated and no doubt very bored at home and because he has no interests it takes full time adult intervention to keep him busy. Keeping him occupied him is the only way to limit his repetitive stimming behaviours which include hand-biting, strange hand movements, banging his chin, pacing or moving around the room with a skip and making repetitive moaning or clicking noises. These bouts of stimming can last hours or even a whole day if he is not distracted and they can be hard to live with and make it impossible for anyone to relax. So much more of my time is currently taken in being with things like playing tickles. Toby loves the anticipation of being tickled though you do have to watch out because he can suddenly switch to being very upset or aggressive if the stimulation becomes to much for him. The other reliable way to keep him busy is a bubble bath and he'll happily have 4 baths a day, playing in there for half an hour at a time. It's a great way to keep him occupied and is good for me too because I can sit and knit while watching over him.
We are still getting our 6 hours a week of respite though it is becoming harder to get it allocated at weekends and school holidays as the facility where he goes is now full and the demand for prime slots is fierce. It is frustrating and depressing to be forced into taking respite time after school (when it has far less of a positive impact for us) but as in everything you have to find the energy to fight for what you need and I will keep on fighting. Luckily whilst Toby is at school life is calmer and more relaxed and I knit virtually constantly as it's a great antidote to the full on activity that starts when he arrives back home at 4pm.
Anyway, that's us at the moment. I'll pop back soon and show you some of the wristwarmers that I've been making with all of the sock yarn that I couldn't resist buying recently um, have had for ages (incase H is reading this because he thinks I need help with my yarn addiction but I know I'm not the only one who finds it to tempting to resist!) *waving hello* to all you fellow yarn stashers out there xxx