The final few days before the long school summer break are always held in sacred regard here. It's the last chance for six weeks to savour complete quiet, unadulterated by Black Veil Brides screaming out of Amy's room or the incessant clicking of Toby's lego bricks constantly being taken apart and reassembled. Keeping Toby occupied over the summer hols is always a full time job and I will not have much time to call my own over the coming weeks. So today I am being very indulgent and sitting peacefully at the end of the garden with my knitting. At the moment I'm playing around with ideas for Fair Isle sweater patterns (though there won't be a pattern for a while as I still have lots of tweaking to do) ...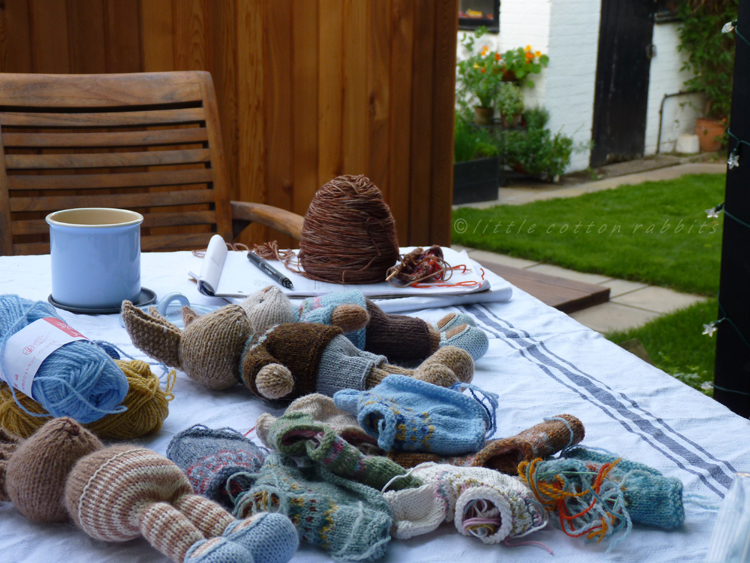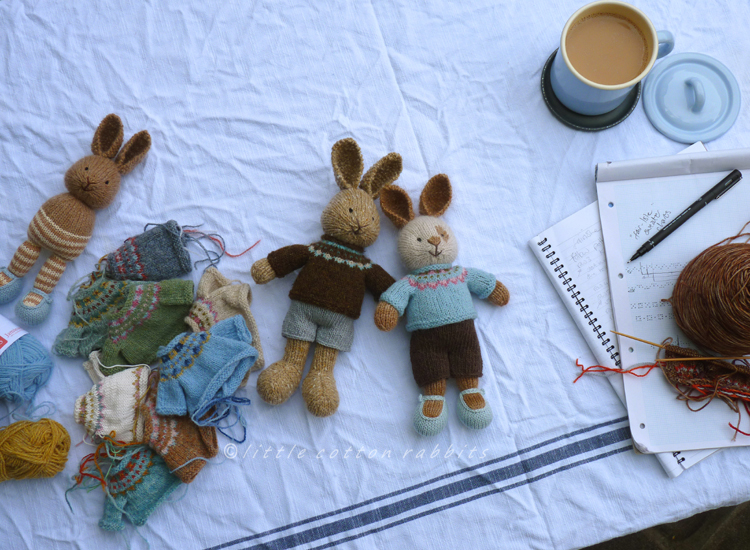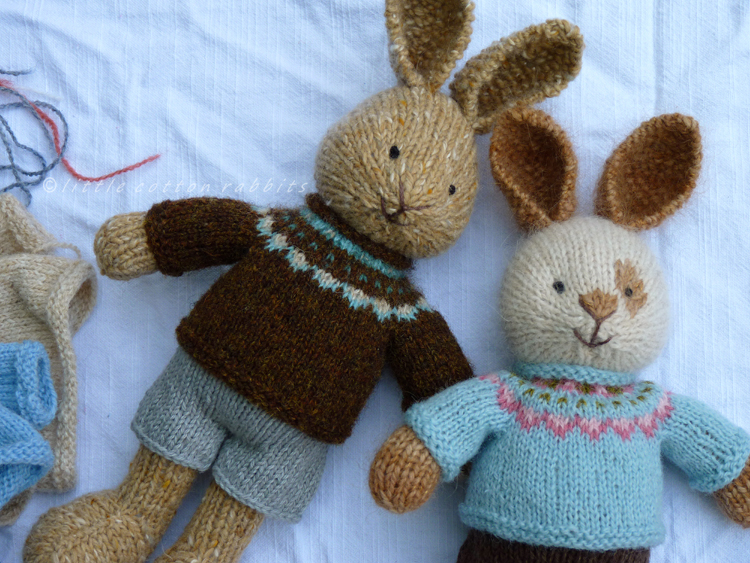 At the end of the garden, sitting with knitting, is my perfect place to be and right now I'm feeling very lucky indeed to be right here. Though the place that my friends and I spent yesterday afternoon in was also rather perfect, The Mudlarks Garden Cafe in Hertford.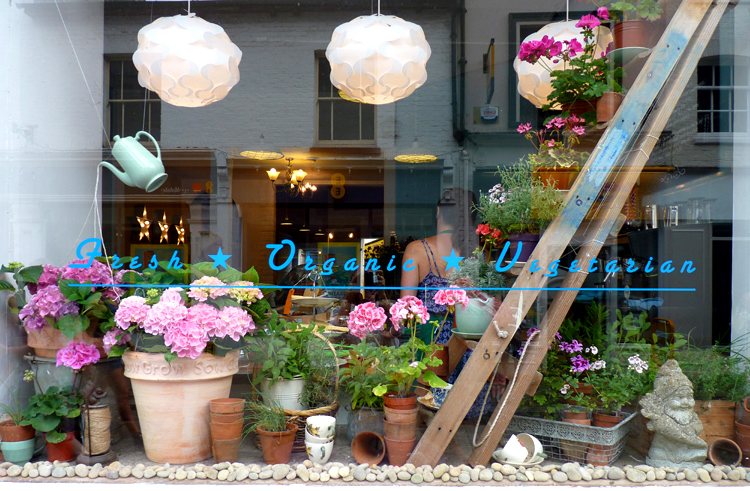 In a world where high street cafes are often multi-national affairs and look the same no matter which town you're in, such a unique and a locally run establishment is a true gem.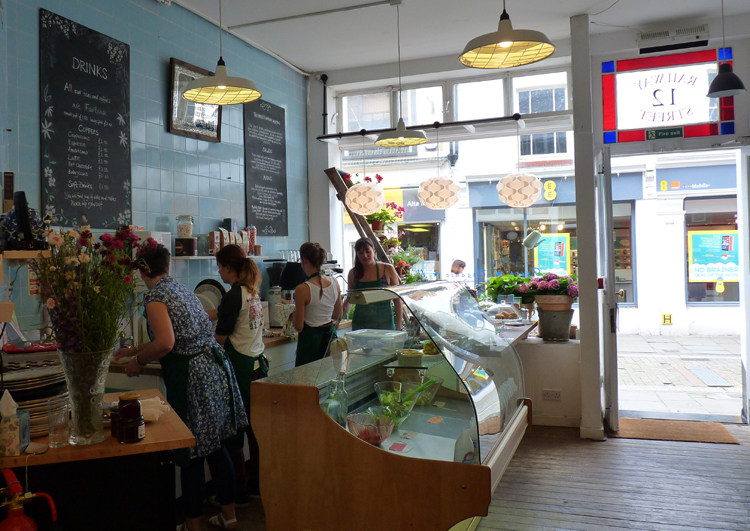 There's a lovely friendly feel to the seating, with cosy sofas and armchairs, little nooks and sweet tables with mis-matched chairs. Hot drinks are served in pretty vintage china tea cups with proper leaf tea in teapots arriving on a tray with milk jugs and tea-strainers. Food is freshly made, organic, vegetarian/vegan and very tempting (I took these pictures after the lunchtime crowd had been and gone and so most of the quiches, salads and cakes had already been devoured).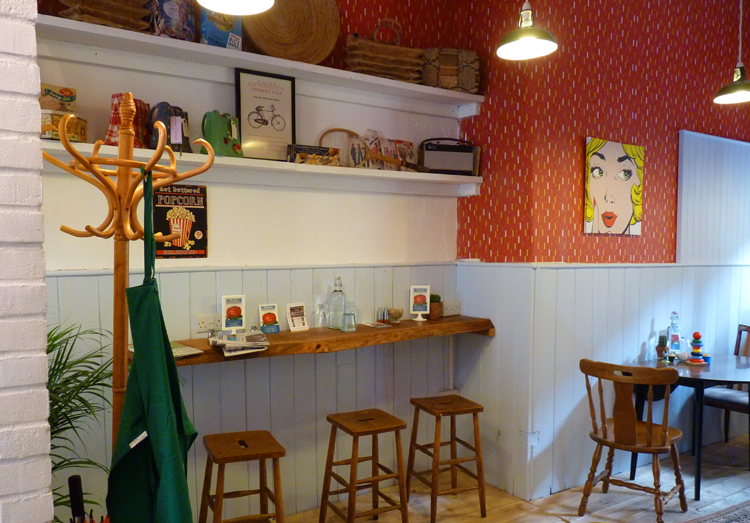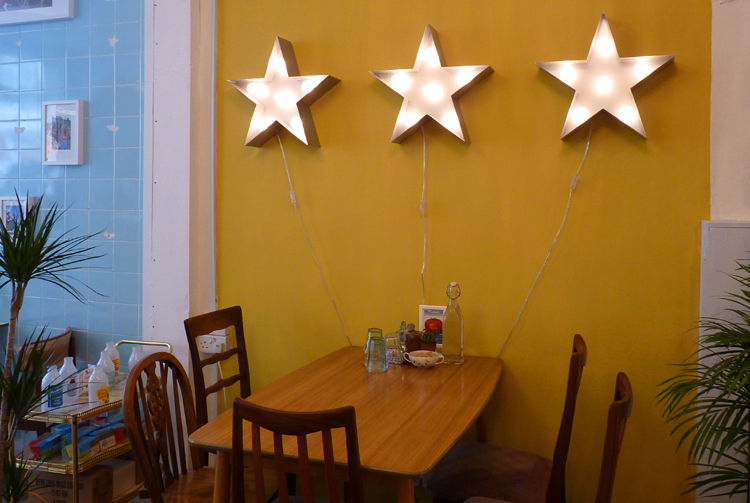 There are books and toys for little ones, a table football game in the outbuilding and a very pretty courtyard garden full of flowers, bunting and more seating.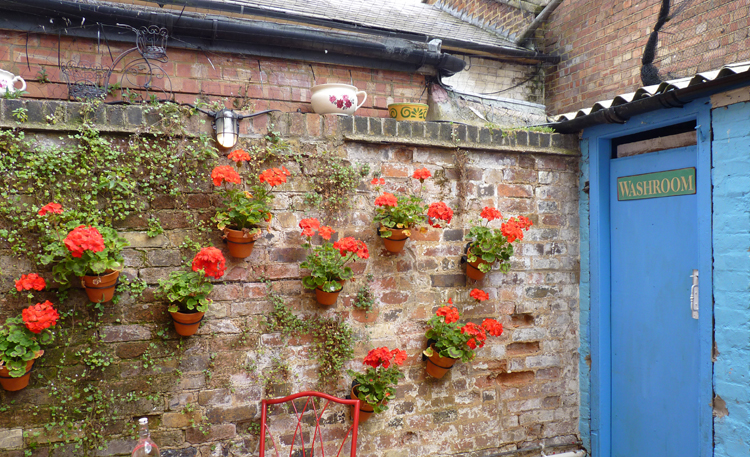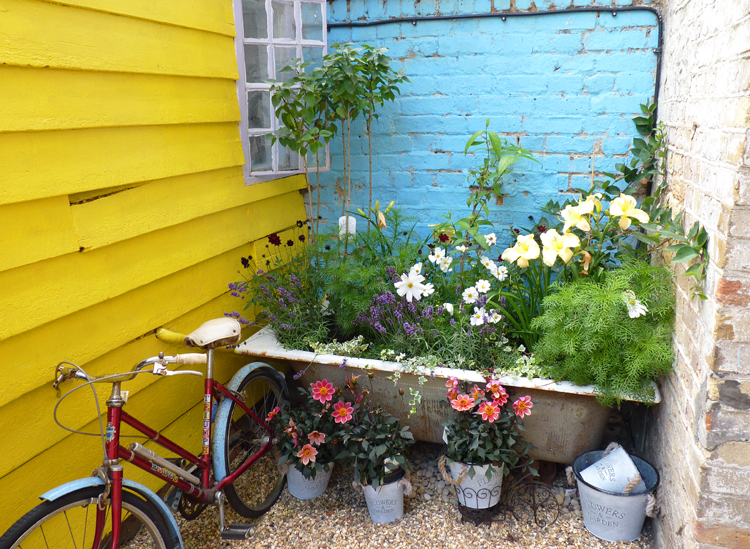 But what really makes this cafe so very special is it's involvement with and support of the local community. The Mudlarks community garden is a charity very close to my heart. Their stated aim is
to integrate people with learning difficulties and mental health issues into the community through gardening whilst also promoting conservation and allowing people of all abilities to learn and work together.
They also support young people with autism and learning difficulties beyond school and this is something which I'm hoping will be a part of Toby's future when he leaves school.
Many of the ingredients used at the new cafe come from the community garden project and it's a nice feeling to enjoy a well-made cup of tea and delicious lunch and know that it is a virtuous one too because of all those people that are helped and supported.
I know that many of you that visit here with me are not even in the UK, let alone local to Hertford but if you are ever in the area please make a detour and stop by the Mudlarks garden cafe for a cuppa and a slice of cake (and remember there's the lovely Creative Sanctuary just around the corner selling beautiful fabrics, yarn and haberdashery).
I hope you don't mind me plugging this cafe, I've not received an incentive of any kind for writing about it and I've done so purely because I wholeheartedly admire their support of autistic and special needs adults (something that has special resonance for our family).
Right, I'm off now to make the most of the last day of term. I hope to pop in from time to time over the next 6 weeks (if Toby allows me). So until then, thanks for stopping by x
 ..........................................................
Mudlarks Garden Cafe, 12 Railway Street, Hertford, SG14 1BG
Open Tuesday - Saturday, 9am - 5pm
 PS: a couple of people have emailed to ask about donating to the Mudlarks charity. They would deeply appreciate any financial support and if you wish to donate you can do so via  their webpage or on their charitychoice page. Thanks x