As you might have noticed if you visit with me often, I do rather a lot of knitting but sewing is never part of my days and in truth is something that I find slightly scary. I've never felt that I was much good at it - probably thanks to the disparaging comments of my teacher about the skirt that I made in needlework class (though they were not undeserved - it was an awful skirt and was never worn). I do envy those of you who can effortlessly whip up new outfits from beautiful and unusual fabrics but the intricacies of insetting a zip or hemming on the bias bring me out in a cold sweat. Sewing by hand though is something I can just about  handle (though not something I've done for years and years) and when I saw the achingly sweet little animal kits that Alicia (Posie gets Cozy) created a few years ago I had to buy one. It has sat on a shelf ever since waiting for the perfect moment, and that moment arrived earlier this week.
Cutting into the first piece of pristine felt made me rather nervous - the kit is so beautifully presented and I really didn't want to mess up, but happily I got all of the pieces snipped out safely and I settled down in the intermittent sunshine with my radio and a cup of tea for some quiet and therapeutic stitching.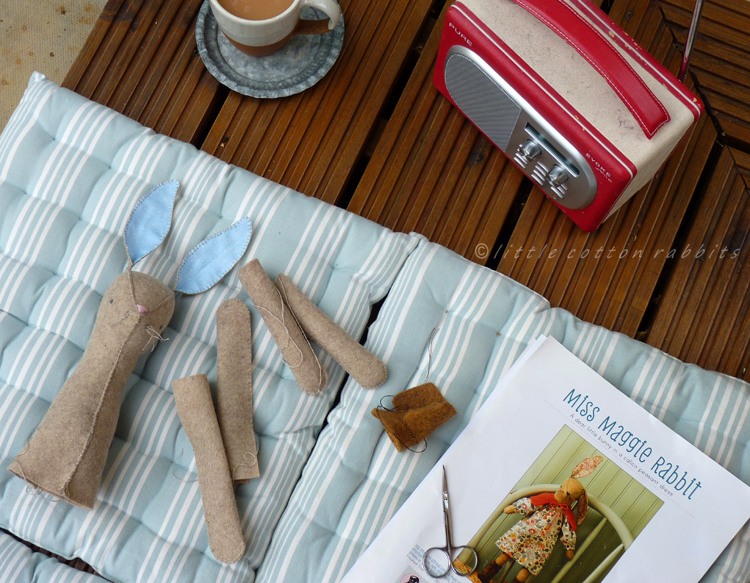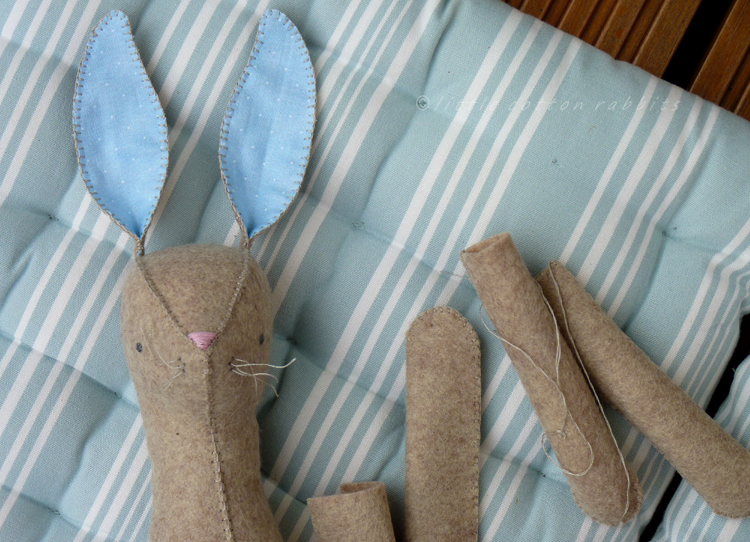 On the first day I sewed miss Maggie herself and yesterday I worked on her clothes. The fabrics that came with the kit are lovely but I wanted to use some from my stash and so I substituted a dotty blue for her inner ears and used a different fabric for her dress (which is probably a little too heavyweight but I am in love with the pattern). I added a scalloped crochet edging to her cape and also made a little pair of woolly socks (which were not part of the pattern) as it gets a little chilly round here in the winter and warm socks are definitely needed, though they have made her boots a bit of a snug fit.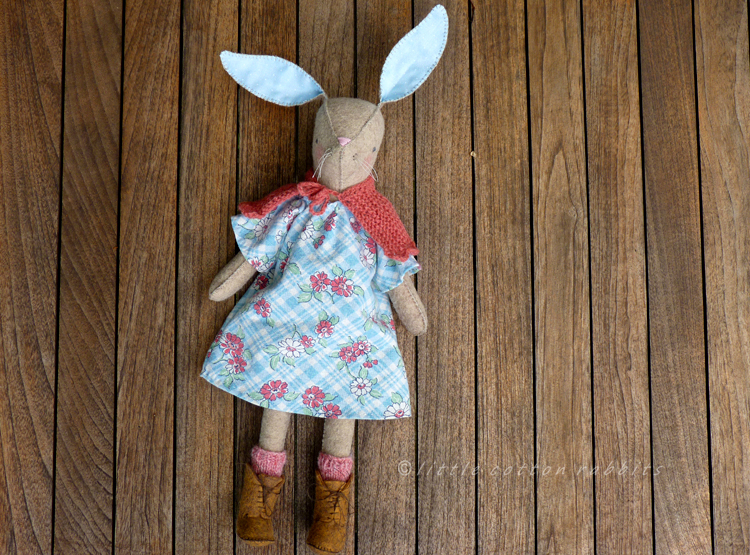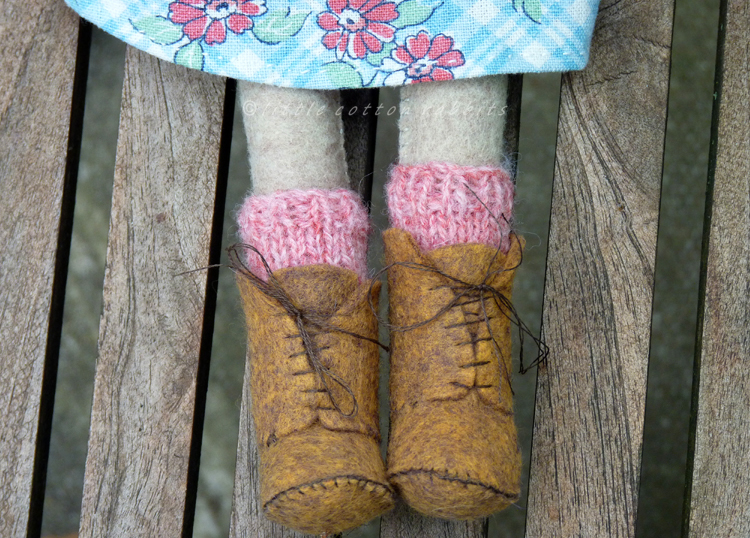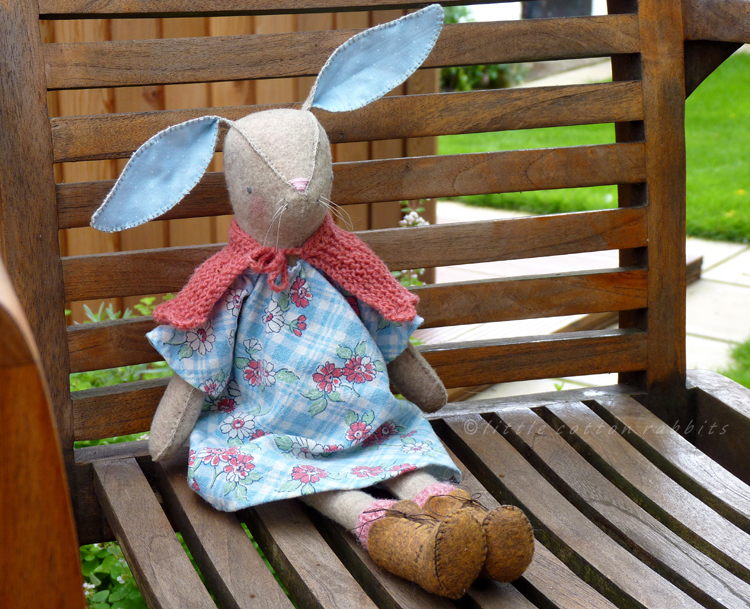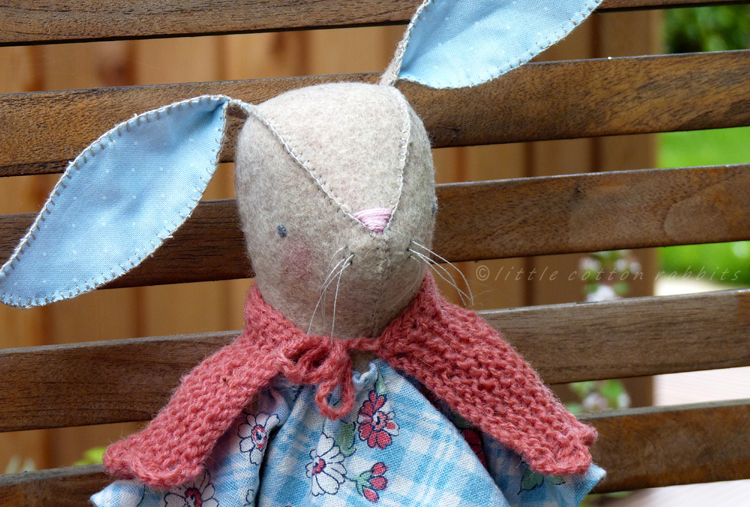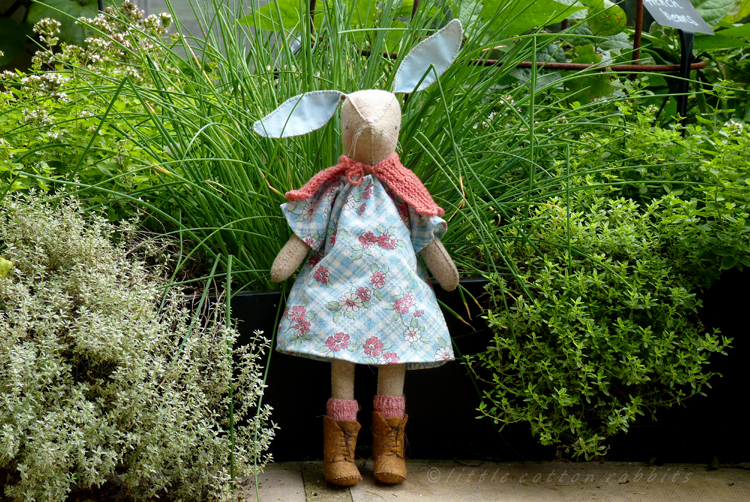 Working quietly on this little bunny over my two recent Toby free days has been so enjoyable and I feel a bit sad to have finished her. I've kept the pattern pages intact though (tracing the pieces onto baking parchment paper) so I may well make another one in the future. I am really thrilled that she has turned out so well and rather surprised (given my lack of sewing skills) though I shouldn't really be as the pattern is exactly what I would expect from Alicia, well thought out, perfectly explained and very sweet.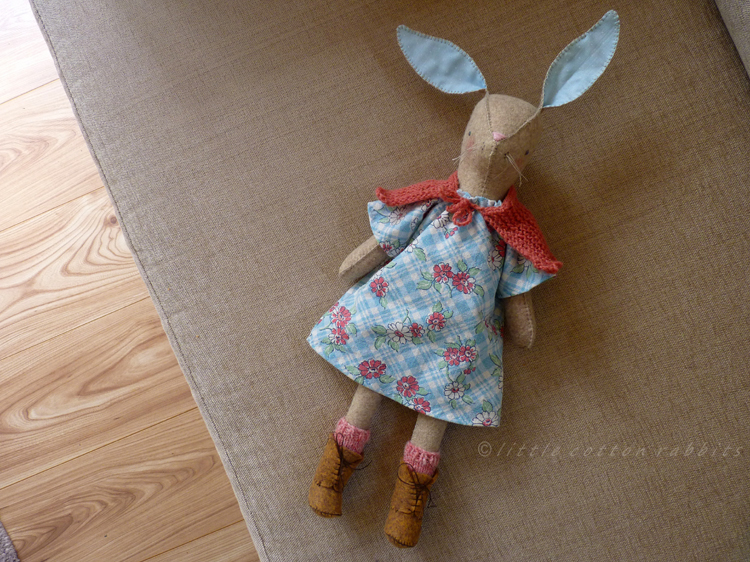 Having a finished bunny on my shelf instead of just a kit is making me happy and I'm rather in love with her.
That's item number 2 ticked off my 'holiday at home' list and I've found my two Toby-free sewing days very relaxing - it's definitely been nice to do something that I'd not normally do. As a result I'm all topped up on positive energy and ready to tackle the upcoming Toby-full days :)