Just as we were starting to settle gradually back into term time routines Toby has come down with a mystery virus. He's not in a bad way (just his usual high temperature and lethargy) but having him at home for a couple of extra days has scuppered my plans to get organised and start working on the next animal pattern. So instead of pattern knitting (which requires stitch by stitch concentration and lots of note scribbling) I have been indulging my current Fair-Isle obsession (born from working on those bunny jumpers a few weeks back).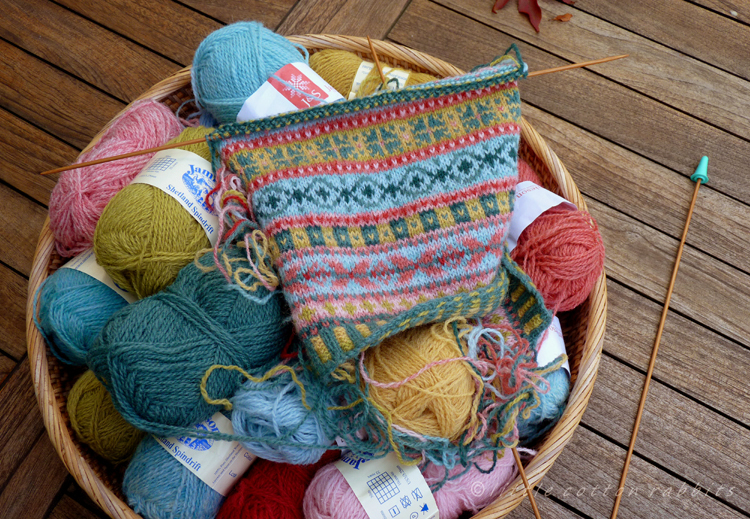 A sampler-style pair of simple tube wrist-warmers seemed like a good idea and I've cast on 66 stitches with 2.5mm needles and just gone with the flow. Over the years I've collected loads of traditional Fair Isle border patterns and have just randomly combined some of these in layers. I'm quite pleased with how the colours are working together (though I have frogged back a couple of times when colours didn't work out).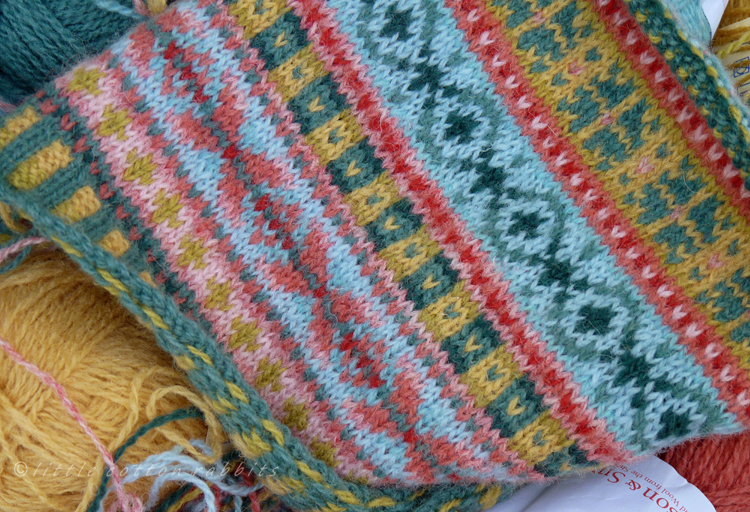 The ten yarns I'm using are a mix of Spindrift from Jamieson's and 2ply jumper weight from Jamieson & Smith - both 2ply Shetland wool yarns in a wonderful selection of colours (later on I'll try and find the ball bands and post the colours I used on Ravelry for anyone who is interested)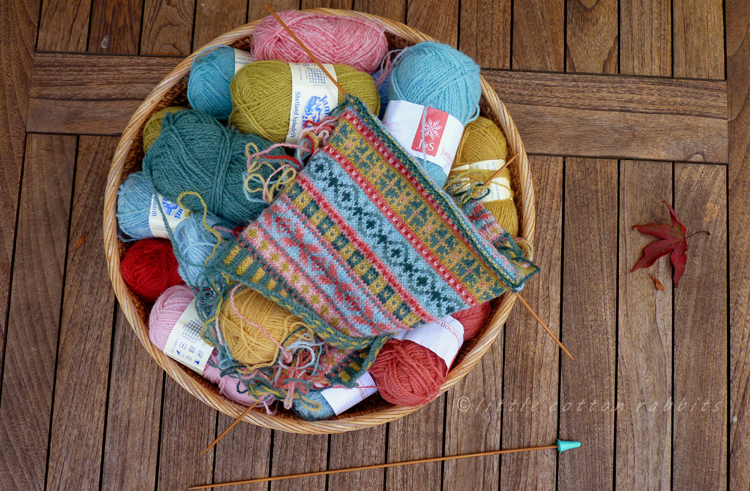 It seems like a good time to be working on wrist-warmers (which I wear constantly throughout winter) as the days are now feeling Autumny. There's a cooler, later start to the mornings and with dusk creeping in a little earlier each day there's the feeling that daylight is being nibbled away at each end. The trees don't yet have their full autumn colour but their greens now look tired and ready to turn and I'm looking forward to lots of lovely walks in the woods as Autumn is the season when they look their most splendid.
The beginning of September holds a little anniversary for me as it's when I first started blogging (on Sept 3rd 2006) and I'm now entering my 9th year of blogging. I usually have a little giveaway to celebrate this anniversary but I'm a little off-schedule so it will be coming up later in the month.
Right, I'm off to see if Toby has his appetite back yet, he's currently sprawled on the sofa behind me watching Cbeebies. I think I'll try the Custard Cream test to see if he's feeling better - if he grabs a handful of them then I know he'll be OK to go to school tomorrow!