If ever proof was needed of the speed that time passes by, then I have it here with my little Christmas stockings.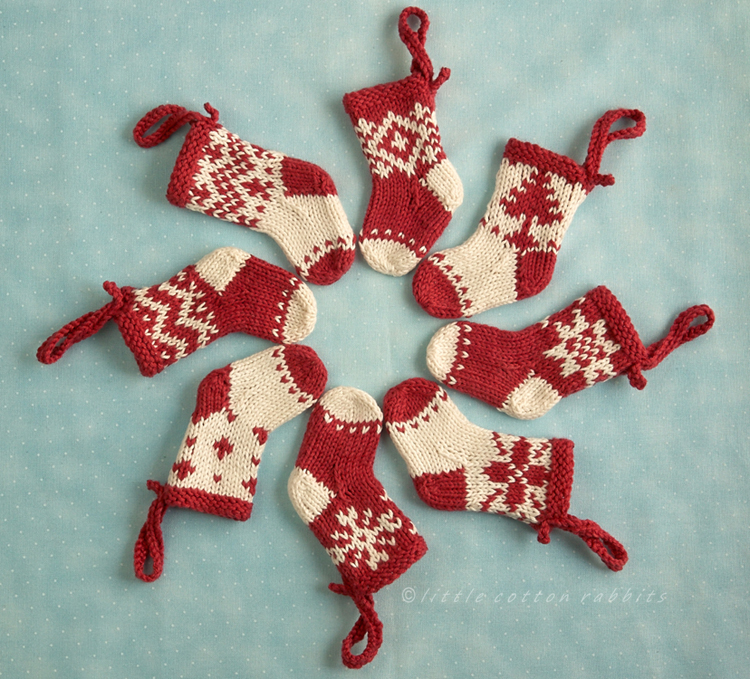 A long time ago I was asked to knit some little stockings for a shop window display and I scribbled some notes to myself whilst making them. When I started the blog in 2006 the Christmas stocking pattern was the very first one that I wrote up to share with others and I hastily took some rather fuzzy photos so people could get on with the pattern and planned to upload some better ones in a few weeks. But, here we are 9 years later and I'm a bit ashamed to say that the same out of focus, poorly-lit photos are still there!
Every year I've thought that I must dust off the pattern, take some decent pictures and produce a proper pdf file that people can download and this year I have finally managed to do just that. The pattern has been tweaked very slightly:
a change of decrease direction at the start of the heel shaping,
an extra instruction about picking up a stitch at the join between the sides of the heel and the top of the foot and knitting it together with it's neighbour, which is aimed at eradicating the gap that often appears there
and 5 new charts to add to the existing 3 which have also had a makeover.
You can download a copy of the new pattern here download now. (I've left the original pattern untouched too).
It's still free and shared with my thanks for supporting my work and in the hope that you enjoy using it to make decorations for your home, gifts for your family and friends or for charity fundraising. It makes me very happy to think of my little pattern helping to spread a little pleasure and happiness out there.
Right, now I've got to go and seam this little lot, which should keep me busy for a while!