It feels like I've been working on these latest patterns forever. In truth I think it's just over a year but there have been a lot of distractions that have required I spend my time on other things and so it feels a very long and drawn out affair. Still, I am pleased to announce that I now have boy and girl bear patterns available.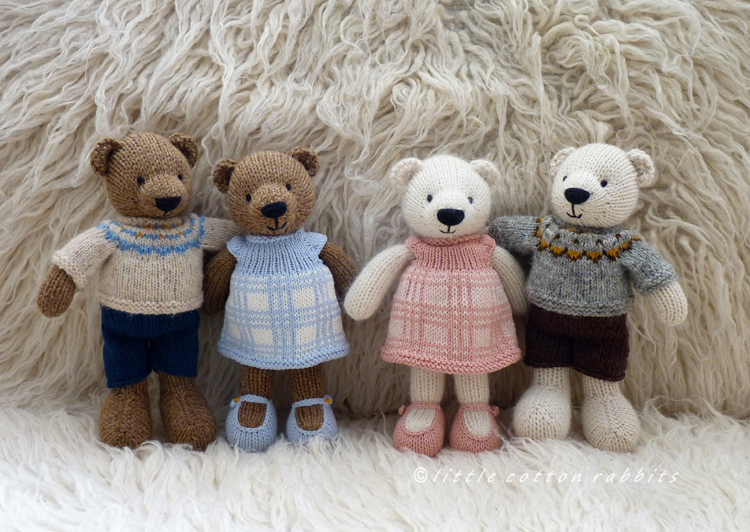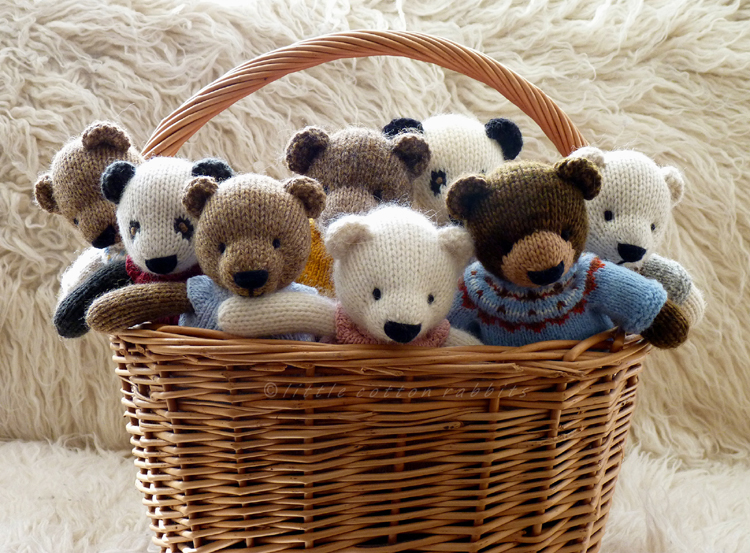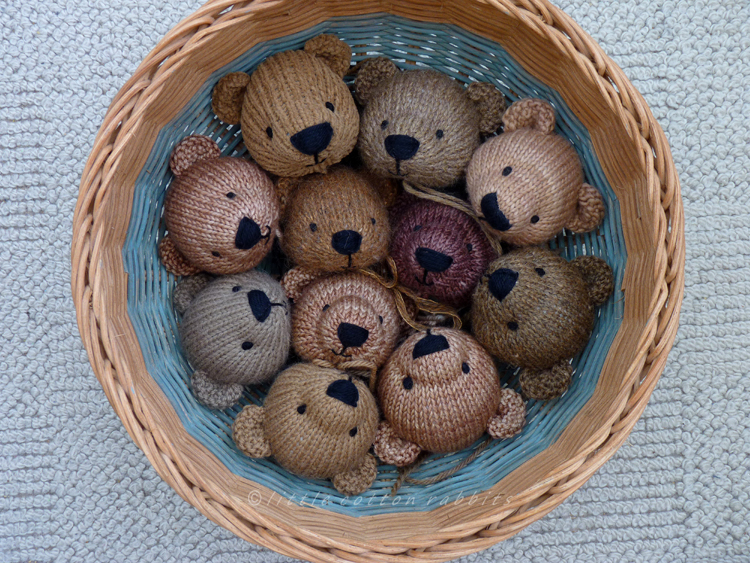 Part of the complication with this pattern was that I wanted to incorporate different kinds of bear: a brown bear, a black bear with a light muzzle, a Polar bear and a Panda. The tweaks to make each of these are simple enough but laying it out within the pattern without the whole thing becoming too complicated was fiddly and more time-consuming than usual.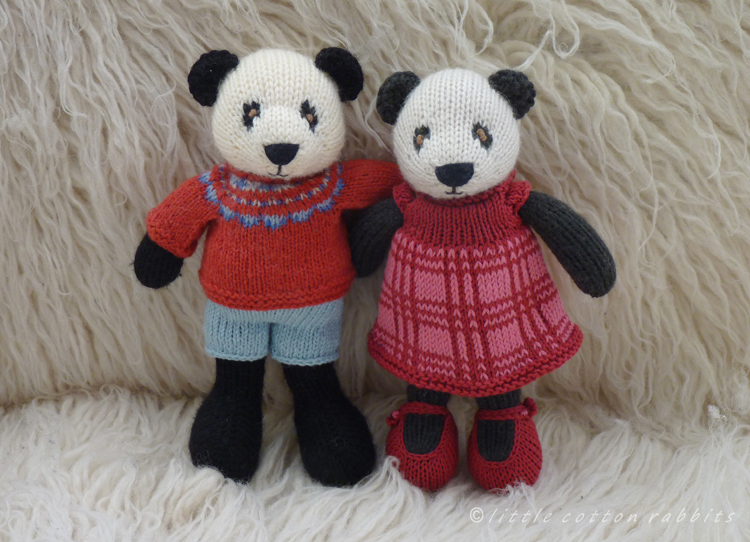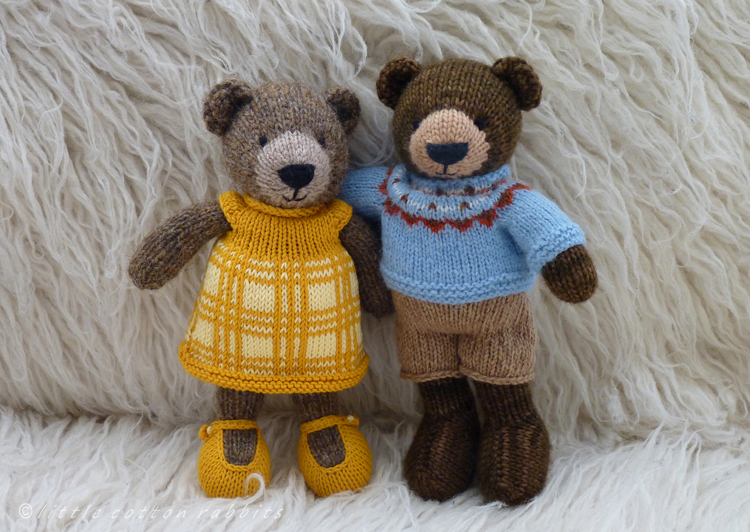 The boy pattern includes shorts and a Fair Isle sweater which is worked flat from the neck down to the shoulders and then in the round for the body and arms. Because I know that there are those who really don't like stranded knitting or working in the round I've also included a pattern for a top down striped sweater that is knitted completely flat and then seamed. You can also combine elements from the 2 different sweaters so that you can make the Fair Isle design flat if you prefer and vice versa.
The girl pattern comes with a plaid dress that is worked flat to the waist and then in the round for the skirt part. Again, I've included a simpler striped dress for those who don't like stranded knitting and/or knitting in the round.
Both patterns include the options for making all of the different bear types.
At the same time as working on the bear patterns I've been finishing off the shoes supplement pattern that I've been fiddling around with for ages too. This has different feet options that you can substitute for the feet in any of the animal patterns. There's a pair of bunny slipper clad feet and 2 options for the trainers/sneakers: a simplish one and a more fiddly one.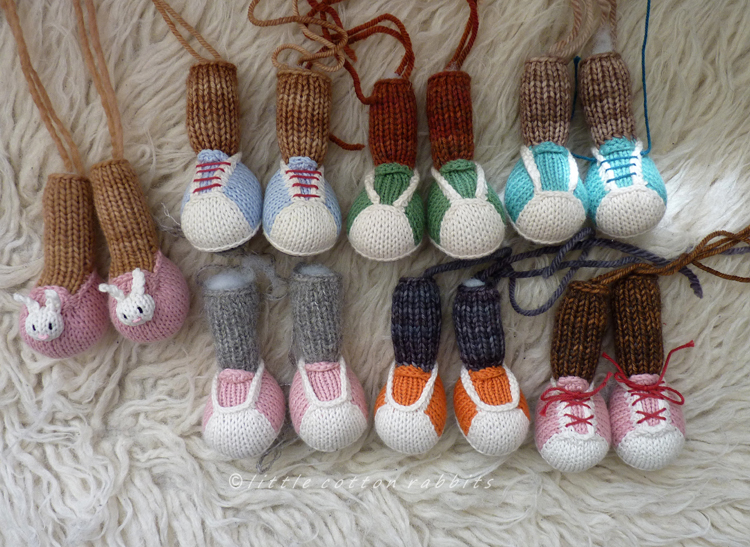 For a limited time (until the 15th of May) I'm giving away the shoes pattern free with either of the bear patterns (don't add it to your basket if you are buying a bear pattern as it will be sent anyway and if you add it to your basket you'll be charged) or you can buy a copy of the shoes pattern alone for £1.95
All of the patterns are uploaded to Ravelry where they're supplied as instant digital downloads or you can purchase via Etsy where you'll have to wait a short while for me to email the digital files to you.
Now comes the fun part for me as I always look forward to the first finished animals popping up in people's Ravelry project pages. It's always such a pleasure to know that the patterns are being enjoyed. I hope that if you give any of them a go you'll let me know how you got on.
Thanks so much. I'm off now to do some gardening in the spring sunshine, it'll be nice to be spending more time outside. See you soon x