Firstly I want to say a huge Thank You for all of the kind, funny, thoughtful and heartwarming comments on the giveaway post. I have read them all and I really appreciate the time everyone took to comment. As usual I've used a random number generator to pick the winners and in view of the amount of comments I decided to giveaway an extra animal so I've picked three winners. They've each been notified and are in the process of choosing their prizes (you can see who they are in the previous post).
As I've been merrily knitting away for months, making exactly what I want when I've wanted to I've ended up with lots of clothes, heads and feet. Now I have to jigsaw all the pieces together, work out which head goes best with which outfit and make all the missing parts. It's going to take me a little while but I am hoping to have a little batch of animals ready to sell this autumn and all being well another one in the run up to Christmas. That's the plan anyway!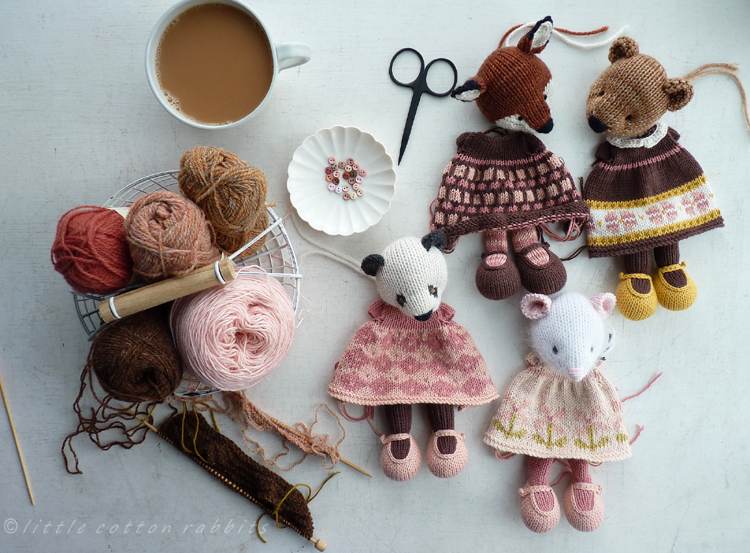 We're starting to get back into term-time routines here. It always takes a while for Toby to settle in, especially as he has a new classroom and new teaching staff. He's also in the biggest class he's ever had with 11 classmates instead of 6 or 7 so this is challenging for him as he thrives a calm and quiet environment. And he's adapting to the after school clubs that I've signed him up for. As he's almost 15 it seemed like a good idea to expand his horizons, so he now goes to Rock club where they explore lots of contemporary music and Health and well-being club where he experiences relaxation techniques and yoga. On club afternoons I collect him with a handful of custard creams as a little treat and to try a lessen the anxiety he experiences at not coming home on the bus as usual. It also helps me feel a little less guilty for tipping him out of his comfort zone!
Anyway, I must get on with some work so I'm off to get knitting arms and sew seams. Until next time I thought I'd leave you with some of the pictures taken over the school summer break where we celebrated Amy's brilliant GCSE results (3 x A*, 7 x A, 1 X B), tried to get out and about as much as possible and made lots of plum jam :)
See you soon x