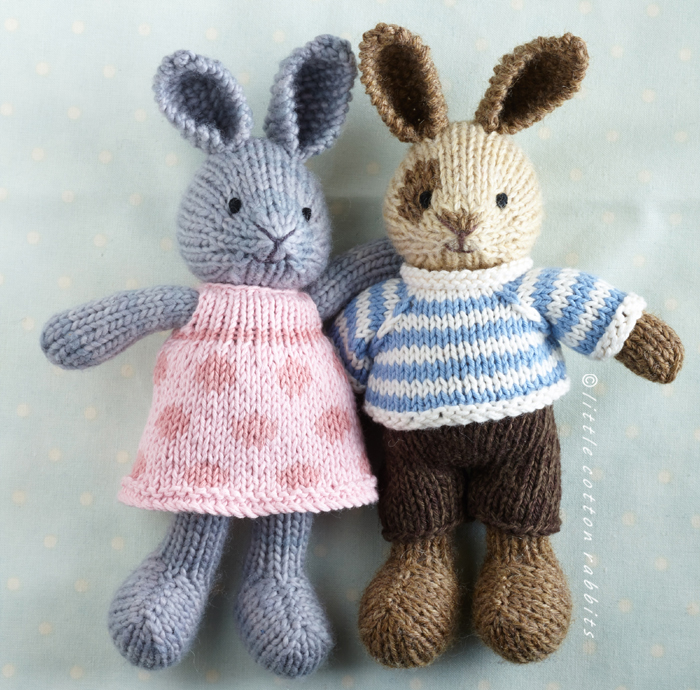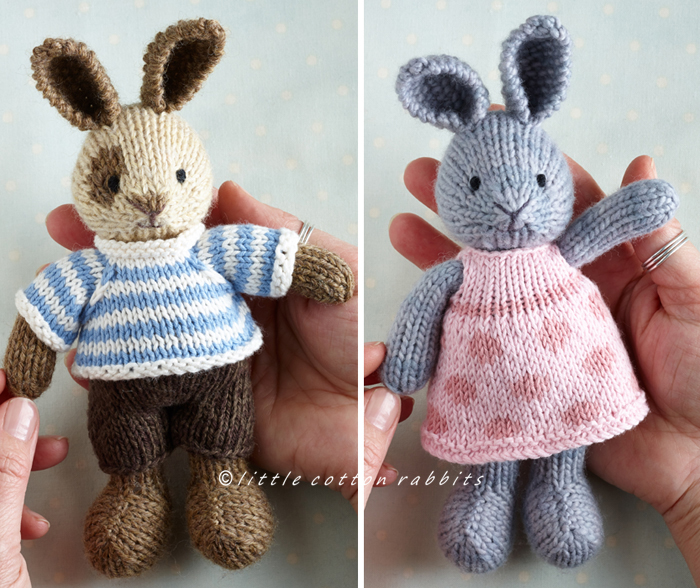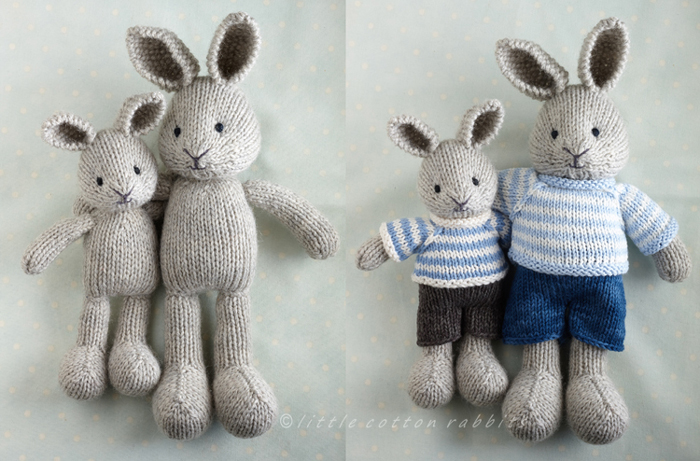 Hello and a belated happy New Year! I do hope that this new year has been kind and gentle to you so far.
I'm still getting back into the swing of things after the wildly out-of-routine Christmas break and I have some pictures to show you of the knitting that I did manage to work on in the quiet moments. But first I want to tick something off my New Year's resolution list, something that I had hoped to have ready during November (in time for Christmas present knitting), but missed my self-imposed deadline. So here it is now, nice and early for a little Easter bunny knitting instead. Introducing Little Cotton Rabbits small rabbit pattern.
This little pattern was prompted by all of the messages that I received last spring following the release of the mini bunny and bear pattern when I was inundated with requests for removeable clothes for the minis and so I set to work making some scaled down versions of the regular sized clothing. I'd also received a lot of requests for mini versions of all my other animal designs and so at the same time I started working on those too. As I worked I began thinking that instead of adapting the minis for the other animal designs, it might instead be more fun to have small scaled down versions of my regular sized animals to wear the clothing. I'd made a small version of the bunnies back in 2007 when I was playing around with ideas for different sized animals and so I hunted through all my old notebooks for the notes that I made back then, and used those as a start point for a scaling down the little cotton rabbits design.
I've really enjoyed working on these small versions, they knit up more quickly than the regular sized bunnies and are a nice size for little hands to hold - they come out at around 8 inches (20cm) tall compared to the regular sized bunnies which are around 101/2 inches (27cms). Paired with the regular sized bunnies they make a sweet family group too. The yarns I've used are exactly the same yarns and needle sizes as I would knit the regular sized animals in - using a worsted weight yarn for the bunny, with the clothing in 4ply weight yarn (unlike the mini patterns, that are made completely in DK yarn on 2.75mm needles), so it's easy to make a regular sized bunny and a matching little version too, all from the same balls of yarn. I can't wait to see little cotton rabbit families appearing :) 
Just as with my regular sized bunny patterns, I've included different designs for the head - a plain coloured bunny head, one with an eye patch and a Dutch bunny head with a blaze down it's nose. Within the pattern there are also 2 options for knitting the body, a plain naked body and a body with knitted on underpants. Included are 3 items of clothing to fit the small rabbits (though they will also fit the mini bunny and bear patterns too), there's a dotty dress, a striped sweater and a pair of short trousers all included. I've decided not to make these small versions with mary jane shoes at the moment but I plan to play around with options and will most likely work on a 'small ones' shoe pattern to also include sneakers and so on, just like the optional extra shoes for the regular sized animals. There will be lots more clothing to come too, I am bursting with ideas, all I need now is the time to turn those into pattern form.
As always I'm brimming with excitement to see what you make from my patterns, so if you do give this new one a go please come and share your project photos over in the Ravelry group.
Right, I'm off to keep working on some small versions of my other animal designs and the clothing too. I'll let you know how I'm getting on soon.
The picture below shows all 3 sizes of Little Cotton Rabbits now available. The largest is the boy bunny in a striped sweater (original sized rabbit) which is 27cms/101/2 inches tall, the middle sized is the new 'small rabbit' pattern which is 20cms /8 inches tall, and the smallest is the 'mini bunny and bear pattern' knitted in 4ply yarn on 2.5mm (US 1.5) needles and 14cms/ 51/2 inches small.