Before I had children I used to think that I was a reasonably intelligent person with the ability to simultaneously have an intelligent conversation whilst secretly thinking about what to cook for dinner that night. These days I am beyond help and can't even carry on a conversation without getting sidetracked - see I'm waffling now. Anyway, for a few days I've been thinking about dusting off some christmas ideas from last year. So today I rummaged through my work boxes for a pattern that I had designed and found 3 versions of it. I've now had to spend all morning knitting up each pattern to work out which was the final perfected design. And the morale of the verbose story is: BE MORE ORGANISED!
So here are some samples of what I'm aiming for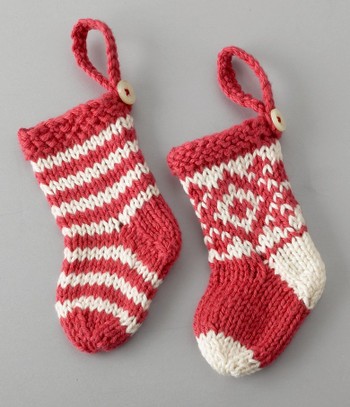 Knitted christmas tree stockings to fill with goodies (choccy coins and tiny gifts). I'm also planning to write it down in meaningful knitting language and post it on my blog as a free pattern. So if anyone out there fancies trying it out - watch this space!