As I've mentioned previously my son is severely autistic. He's not yet developed any speech at all and has never uttered a recognisable word although he merrily babbles with lots of consonant sounds. How then can he wander over to me and purposefully ask for some chocolate buttons and a maisy video?
Well it's all down to the magic of PECS (the picture exchange communication system). I have talked about it here before so I'm not going to repeat myself but I will say again that PECs has transformed life for our family and given my little boy a 'voice'. For some time now I have been meaning to put in some intensive time to try and develop Toby's use of PECs further. At the moment he uses it confidently to request food, toys, videos and favourite places like the park but I am hoping that one day he will be able to comment on things he sees, hears and thinks and that we may be able to have more of a 2 way conversation.
So you're probably thinking "what has all this got to do with aprons?" Well, let me introduce my new secret weapon...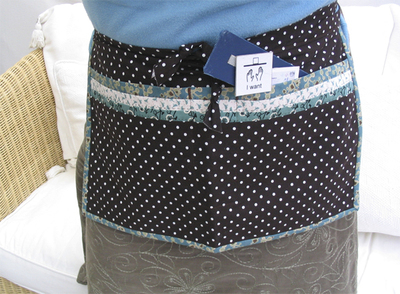 Lovingly handcrafted from beautiful fabrics and made especially for me by the wonderful Carolyn at Laughing Duck it has 2 perfect pockets for storing PECs cards and strips. When I'm wearing this I have all of the symbols that I need readily available so I can show Toby the symbol for 'wait' while saying it, the symbol for 'plane' when he glances up to look at one passing overhead and generally begin expanding his vocabulary and teaching him by example that he can use symbols to communicate rather than just for requesting things.
It will take time and lots of work to get him there but, as we have no reason to believe that he will ever learn to speak, using PECs is the best way to equip him with the ability to communicate with others. He's been a real star to achieve what he has already with it so I've no doubt we'll get there in the end and Carolyn's gorgeous apron is going to make getting there a lot easier and more fun! Thanks Carolyn!