...and I'm really sad that it obviously does but copying another person's work and selling it on as your own just isn't right. I really didn't want to bang on about it here as it seems a highly contentious issue but discussion about copyright has been cropping up in lots of blogs recently and I wanted to be clear on my views.
I have no problem in people copying the look of my toys for personal use or for gifts. Neither do I have a problem in people taking individual elements of my designs and incorporating them in their own - that is all part of the normal creative process. What I, and most other crafters find demoralising and depressing is recognisable* copies of our work being sold without our consent.
The reason I'm mentioning this now is that I've had several kind and concerned emails recently about toys similar to mine being sold. The most blatant example was this which was found on a russian website with a claim that the designs were their own and instructions of how to make them.
The copies...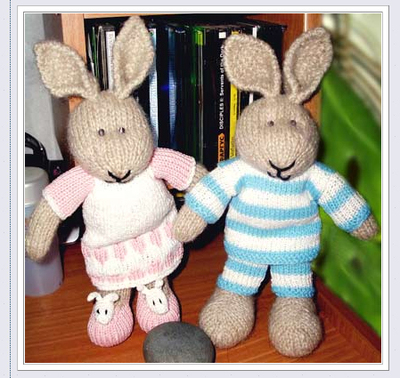 My originals...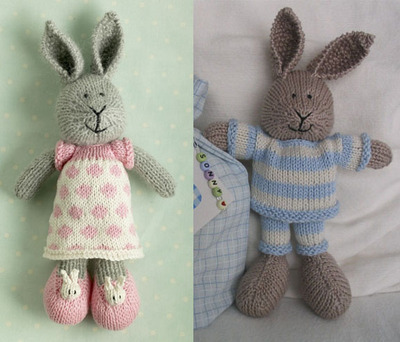 The lovely Barbara at Fuzzy Mitten has written up some of her views on copyright too - we've been comparing notes as recently some of her patterns have been adapted to copy some of my designs. I think her views are very similar to my own and really what we, and other crafters find upsetting is recognisable replicas of our work sold with a claim that it is someone else's.
Ok, getting off my soapbox now... and ending with a big thank you to everyone who has sent me concerned emails with links to copies of my toys. It's good to know that I have friends out there who are looking out for me.
PS: I've had lots of emails in the past about knitting up my free patterns to sell to raise money for charity and I always say a categorical yes - I'm really pleased if you want to use my free patterns for charity fundraising and I'll be trying to write up some more.
* Addition: I've changed the word above (see *) from exact to recognisable - as someone pointed out in an email the copies are never going to be exact. Thanks so much for all of the comments - will write a proper post tomorrow.