This year I was really stumped about what to do for the teacher's presents. It doesn't help that between the two children there are 11 teachers, helpers and therapists to send presents to. Anyway, I'd done well with decorations for the bags having crocheted some sweet little snowflakes (very easy and quick) from a free pattern on Attic 24 but I was still feeling uninspired about what to actually put inside the bags. Thankfully you can always rely on bloggers to provide the perfect inspiration and thanks to a post on Soulemama which led me to Orangette our bags are now full of peppermint bark...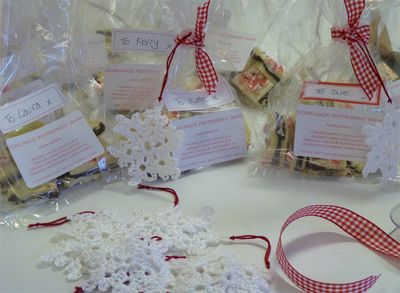 ... our tummies too - it took a lot of trimming to get the block square ready for cutting!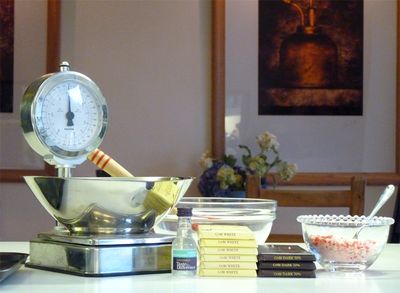 I used 6 bars of Green and Blacks white vanilla chocolate and 3 bars of dark 70% cocoa (each 100gms), a teaspoon of peppermint essence, 9 tablespoons of double cream and 4 smashed up peppermint candy canes.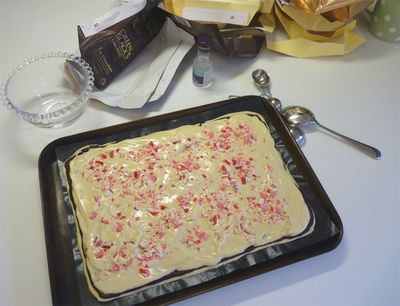 I followed the recipe although I did cheat and melt the chocolate in the microwave (on low setting). I spread the first layer of melted chocolate on a sheet of washable, reuseable teflon (I use this for all my cookie baking) and it just peeled off easy as anything at the end.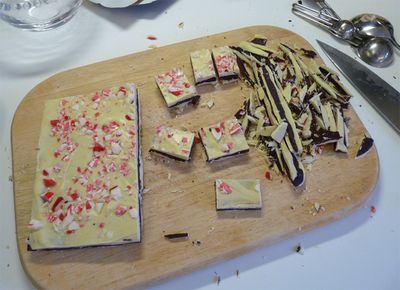 Chopping the block was hard and I got lots of uneven shapes. I may have made my layers too thick and the chocolate was splintering a bit but I think that adds to the charm of a homemade gift and the really mis-shapen ones just had to be eaten!

I'll be scouring the shops and stocking up on peppermint candy canes so I'm ready to make more of this next year. It's very easy and great for children to help with and is a hundred times nicer to make than the candied chestnuts I slaved over last year. It is also absolutely delicious!
..................................................................................................
PS: Thanks for all of the kind comments about my mittens on the last post. All three pairs are based on exactly the same pattern (a very generous free pattern at that) Endpaper mitts by Eunny Jang (which I can now recite in my sleep having made eight pairs based on it). I've written up my modifications over on ravelry so you can see what yarns I used and which different stitches.