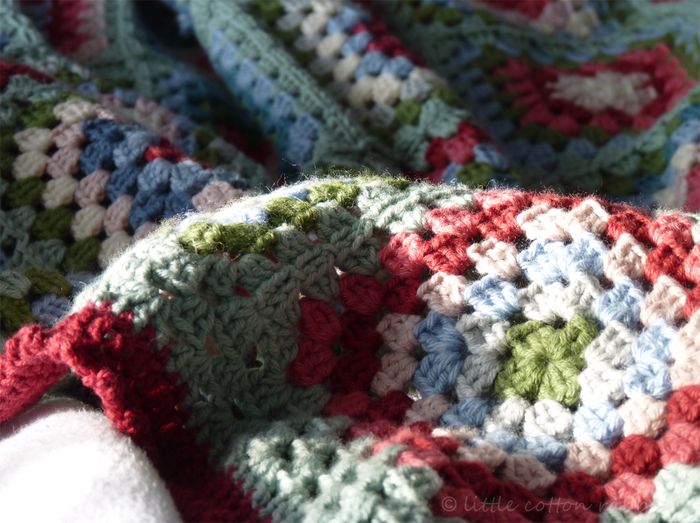 In some ways I'm a little sad to have fastened off the last stitch in the edging of this blanket.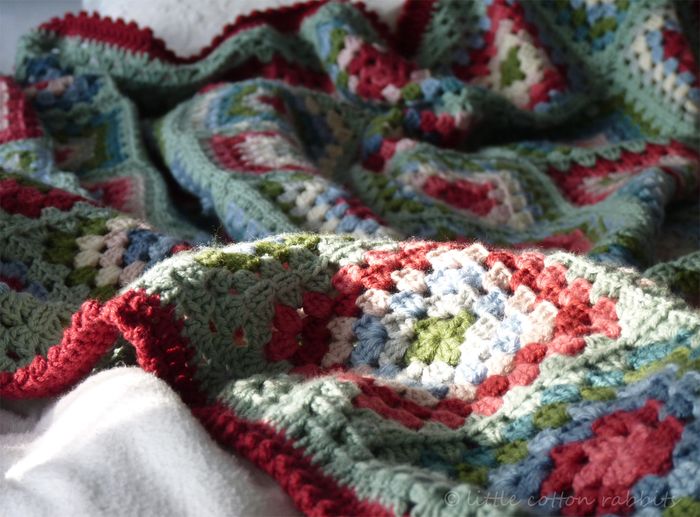 It has been a pleasure to make; rhythmic, undemanding and soothing.
After a bit of a false start (when I had a crisis in confidence about the colour choice and unpicked 20 squares) I started again and I'm now very pleased that I did take out that yellowy colour.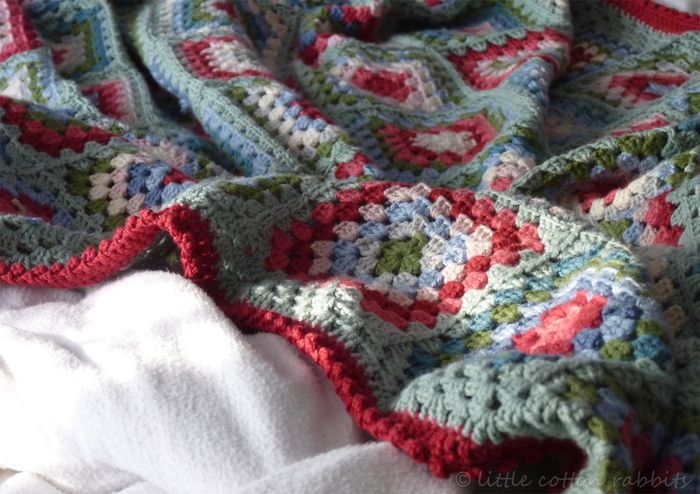 The colours to me are rich and comforting and it has turned out just as I had hoped.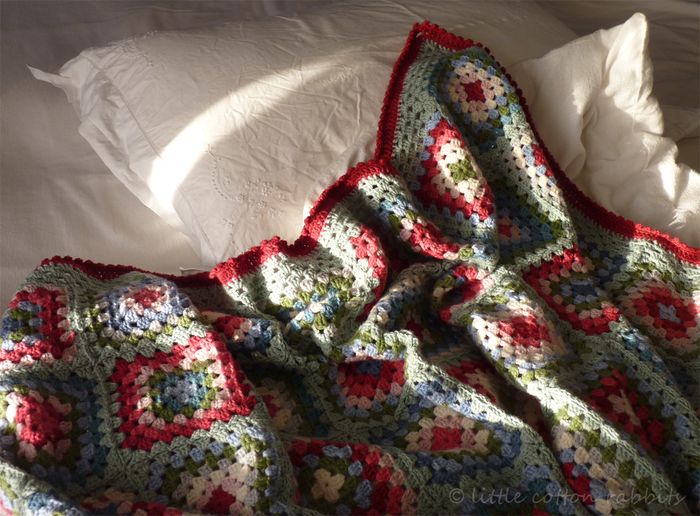 In fact I am ridiculously pleased with it.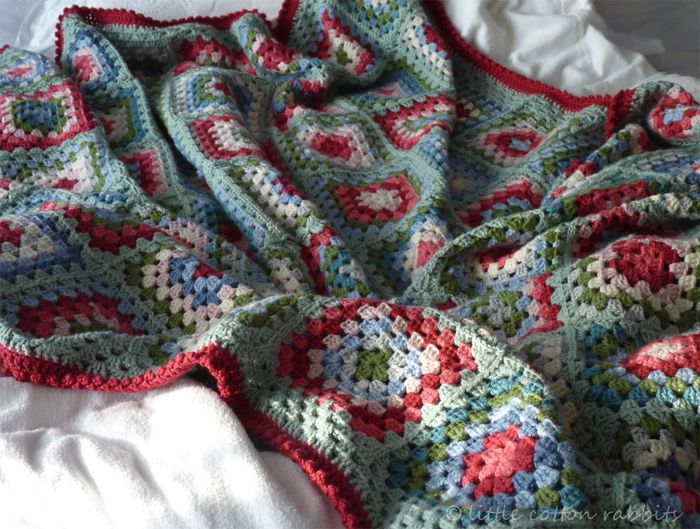 So here it is, all finished (though it's not easy to photograph)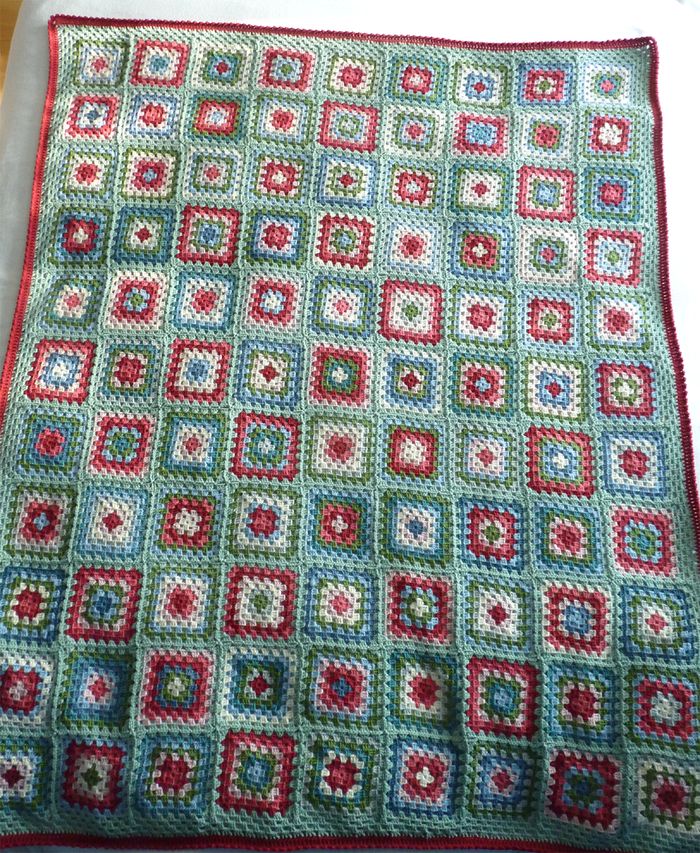 And here are some stats:
:: Started on August 31st 2011 and finished on January 27th 2012
:: Worked with a 3.5mm crochet hook in 10 colours of DK yarn:
5 balls of Rich 911 (red) Rowan wool cotton (including 2 for the outer edge),
3 balls each of Geranium 976 (dark pink), Tender 951 (pale pink), Antique 900 (cream),  all in Rowan wool cotton, Basil (green) in Rowan Belle Organic DK and Mirage (pale blue) in Rowan Classic cashsoft DK
2 balls each of Cypress 968 (aqua), Clear 941 (silver grey), Blue Wash (dark blue) all in Rowan wool cotton,
9 balls for the main background Celandon 979 (pale green/aqua) in Rowan wool cotton
:: There are 99 squares (9 x 11) and it measures 133cm x 163cm
:: Each square is a traditional granny square (there are lots of tutorials on the internet such as this one) and each square has 6 rounds of different colours. There's a sort of checkerboard pattern, alternating between squares with red near the centre and those with it near the edge but it's fairly random.
:: Each square is surrounded by a round of the background colour and I worked 3 rows of this around the 99 squares.
:: The edging is worked as follows: 1 row of single crochet, 1 row of double crochet, another row of single crochet and a row of picot edging.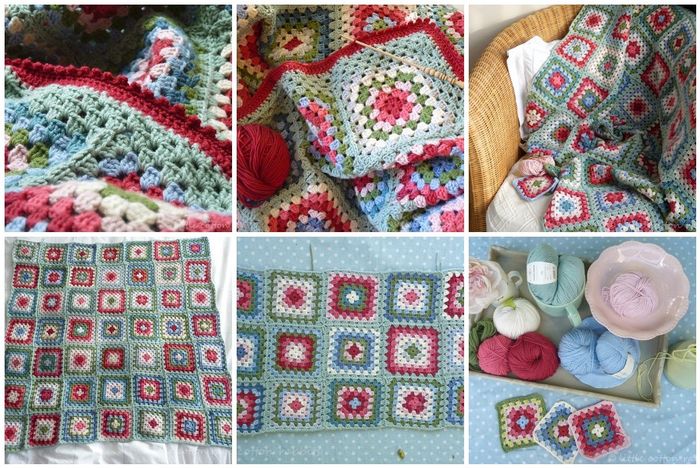 I've got used to working on a little crochet in the evening so now I'll have to ponder what to make next as my one a day project, though I think I'm a little blanketed out.
Any ideas?
(part of the one a day project)