Isn't it strange how things sometimes go?  I have been coveting the blanket that I mentioned in the previous post for a few months now, but it was on a site that at the time had no link to the source - it does now :)
Then coincidence (in the form of a special joint project with some other lovely crafty people, Ros Badger included, which I'll tell you about another day) led me to her blog where I found the original picture. And now thanks to mentioning it in the last post I've discovered that the pattern has just been published in the latest issue of Mollie Makes magazine (thanks to everyone who left a comment or emailed to let me know) and I've also been told it is in Ros's latest book Homemade: knit, sew and crochet. I do love coincidence and it makes me certain that I was supposed to make this blanket (that's what I'm telling H anyway)
I began working on this at the beginning of December before finding out there was a pattern and I've therefore used the original design as an inspiration rather than replicating it exactly. The main design elements that I admire most in the original are the 'oriental carpetish' colours and the lighter surround to each square that makes it look like a little tile. Those are the two elements that I'm incorporating into this blanket and here's where I am so far ...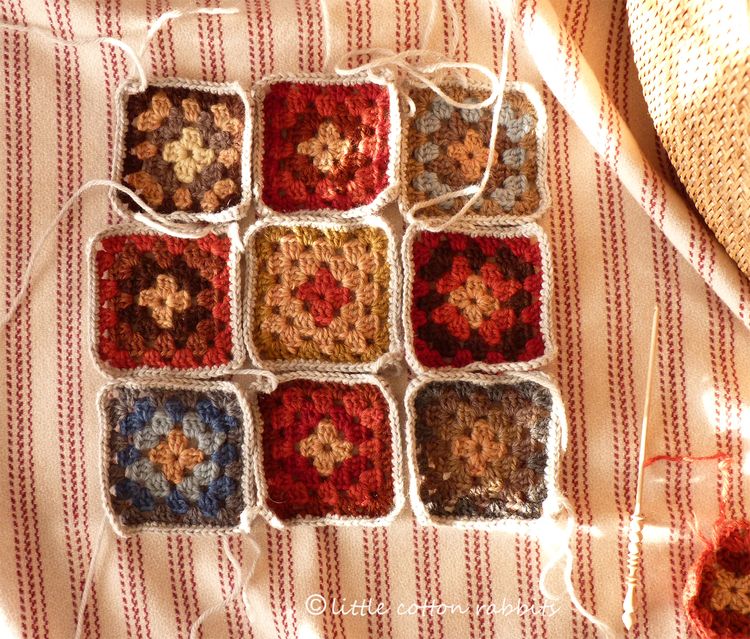 I've been playing around with colour combinations and have ruled out using the deeper indigo (pictured in the basket at the end of the previous post) which seems to overpower the other colours. I'm also not quite sure yet whether to randomly order the squares or whether to be more structured. I'm leaning towards structure at the moment, but am keeping my options open (having learned my lesson with 'the old china blanket' when I had to unpick a load of squares because one of the colours didn't make me happy).
This time I'm being un-characteristically patient and won't start sewing the squares together until I've got a plan.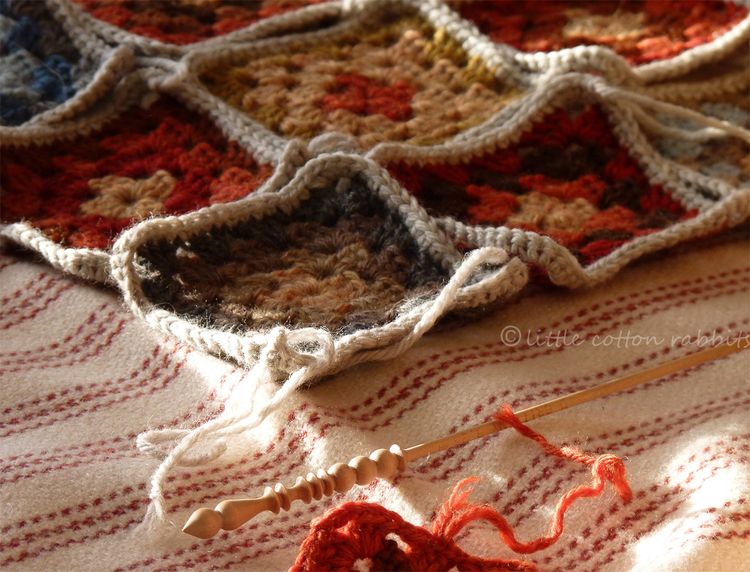 Unlike my previous blanket projects I'm not going to commit to one square a day - more 'one when I feel like it' and will just go with the flow and see how big it grows. Though I have a feeling that this will end up being a big blanket :)
Some blankety details:
Based on the Granny Square Blanket originally published in Homemade: Gorgeous things to make with love by Ros Badger and Elspeth Thompson (April 2009, republished May 2010).
using a 3.25mm hook
Yarn: Cascade 220 Heathers yarn in:
2425 provence, 2427 Glamour, 2431 chocolate, 2435 Japanese maple, 2437 kansas, 2440 vinci, 2442 fog hatt, 2444 flame, 2453 pumpkin spice, 4010 straw, 8013 walnut, 9332 sapphire, 9491 greystone, 9562 coffee bean, plus some oddments of yarn from my stash    
and Cascade 220 8011 aspen heather as the surround for each square.
I've added the pattern to ravelry. I've also ordered a copy of Ros Badger's book so when it arrives I'll update the ravelry page with the yarn details and hook size that she recommends.
Meanwhile it has been snowing here all day today and we now have quite a covering.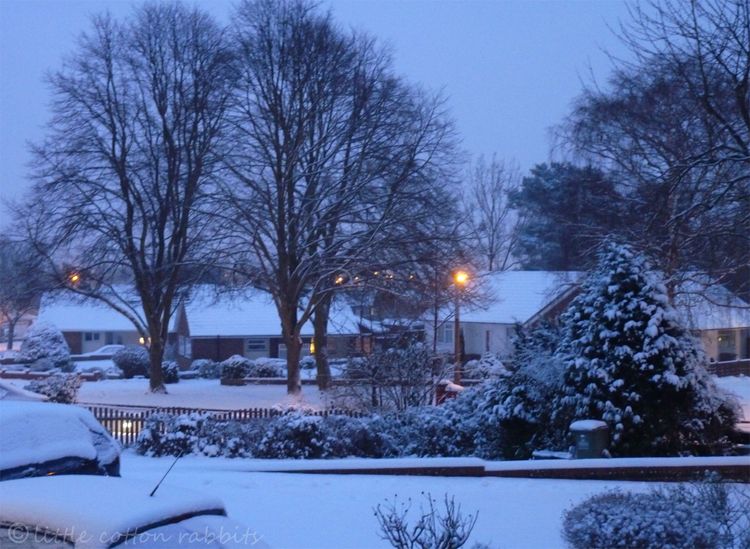 H cleared the driveway earlier but it's covered over again. If it continues to snow overnight we will no doubt have a snow day tomorrow and the children will be off from school. The perfect excuse for a day of cosy cuddling and crochet!