Hello again. It's nice to be back now that the children are at school again. It's been longer than I planned since I popped in here and I had intended to write another couple of blog posts over the school summer hols but circumstances conspired to keep me away from the computer. I will write up a post soon about my summer knitting exploits but today is a special day as it is my blog anniversary - it was exactly seven years ago today that I first dipped my toe into bloggy waters.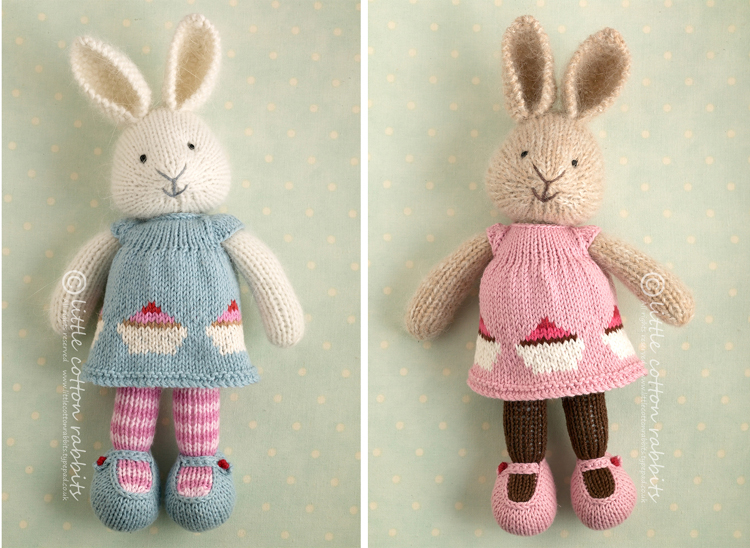 At the time I didn't have any long term plans for the blog. All I wanted was a distraction from worrying about Toby (who was having his very first day of school), a way of connecting with other people who like to make things (because it appears that none of them live very near me) and maybe a way of selling a few knitted things so that I had an excuse to keep making them. I count myself extremely lucky to have had all 3 of those wishes come true and so much more besides. I've made real life friends through this little blog, built a small business which does indeed allow me to justify buying lots of yarn and knitting each and every day and I have a lovely place to come to escape from some of the worries about Toby's future.
But all this would not have been possible without you - all you lovely visitors who pop in and say Hi, offer encouragement, support and generally just make me feel happy and part of a like-minded community.
As a small thank you I am giving away the two bunnies above (called Candy and Coco). To be in with a chance of winning one of them just leave me a comment below and tell me something you like to do with your free-time. I'll pick 2 winners using a random number generator a week today (Tuesday 10th September)
I'm also giving away a free supplement to my bunny girl/seasonal dresses knitting patterns. This is for the dress design on the bunnies above and includes charted and written instructions (please note that you will need one of my patterns as the supplement is just the design notes rather than the full instructions for the dress construction). If you'd like a copy you can download it for free here.
Thanks again for continuing to visit with me and for all of your lovely comments over the last 7 years, I hope you'll stick around for a while longer x
.................................................................
As always after the long summer holidays I am woefully behind with replying to emails. I hope to catch up over the next week, sorry if you are waiting to hear back from me.