I do love days which are designated as national woolly celebration days and happily we have a lovely one coming up later this week. It's part of the 'Love Your Yarn Shop' campaign from Let's Knit and Let's Get Crafting magazines.

Yarn Shop Day is on Saturday May 3rd and up and down the country a multitude of local yarn shops are putting on lots of different events. You can find out more on the Let's Knit website where there is a map of yarn shops that have signed up. Lots of designers are involved too, popping into their local yarn shops to do demos and workshops. I'm thrilled to have been asked to be an ambassador and I'm going to be celebrating yarn shop day in my local - The Creative Sanctuary in Hertford (see above, this is the fabric side but there's plenty of yarn too) where I'll be demonstrating mattress stitch from 1pm - 3pm. I'll have lots of knitted bits that people can practice on and I'll also have some bunnies, foxes and elephants with me (the 'stars' of my patterns) so you can prod and poke them to see how they're stuffed and sewn and I'm happy to give advice on any aspect of my patterns or general tips on neatly finishing off knitted projects. If you're able to, do pop along and say Hello.
Whilst I've got you thinking woolly thoughts I'll also mention the Deramores Blog awards 2014 which is open until May 14th. There are 2 awards, one for the best undiscovered crochet blogger and one for the best undiscovered knitting blogger and there's a great array of prizes to be handed out by the talented panel of judges.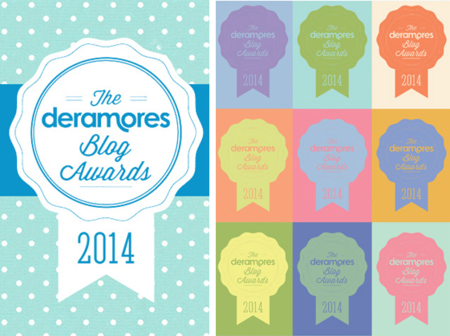 Here is what you need to do in words from the Deramores website
"Wherever you are, you're eligible to enter. Taking part is easy! Be yourself and write a blog post that teaches a knitting or crochet related skill, or shares a top knitting or crochet related crafting tip to meet the theme of the awards; 'Pass it on'. So if you have a skill, share it, and if you swear by a particular way of doing things, pass on that knowledge through your blog."
If you have time pop over and take a look at the entries already submitted, there are some great posts to read through and some lovely tips (I especially like the idea from Kate at Just pootling and I now have luggage labels on my shopping list).
I'm really flattered to be included in Deramores list of blogs they love, especially as I'm in such estimable company.
Wishing you a happy yarn shop day on Saturday, I hope you have the chance to support your local yarn shop as we need to preserve our high street woolly treasures as well as enjoying the range that larger online suppliers can offer x