If you've visited with me before you may remember the tiled blanket that I started back at the beginning of 2013.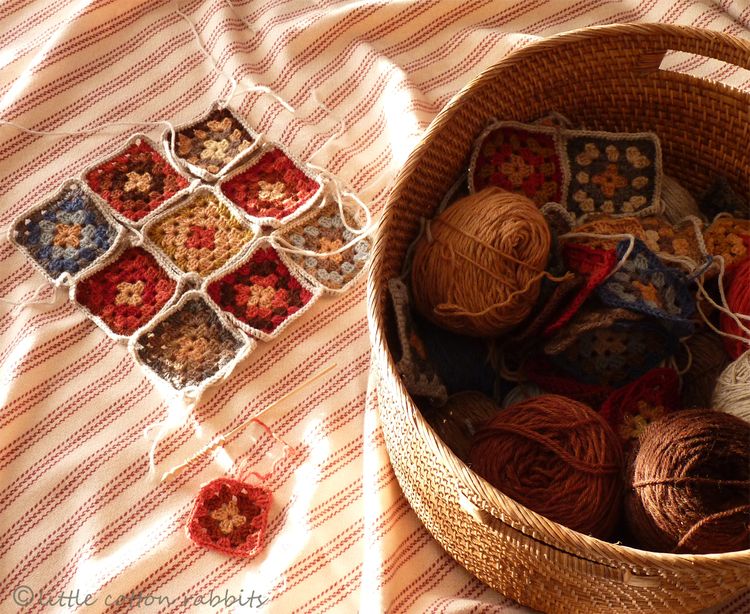 I had plans for it to become a throw for the ugly sofa but things had stalled a bit and by the end of last year it was only this big...
Well it has now been given a new purpose in life and after a few weeks of intense hooking I've finished it and I'm so pleased that it is no longer a throw but something more practical. Before I show it to you though, I'll tell you the story of how it came to be the way it is now...
For quite some time now I have been in denial about the enormity of my woolly stash and it has been getting increasingly hard to tuck it all away out of sight and keep it tidy. A few weeks back it had reached critical mass and after tripping over one of my yarn-stuffed bags one too many times (and once he'd stopped swearing) H decided that something had to be done.
Thankfully he appreciates how happy wool and knitting makes me so he'd never give me a hard time for buying more, though he does roll his eyes every-time the postman delivers a squishy packet. Instead, being a very practical chap, he got out his tape measure, work bench and tools and after a couple of trips to the DIY store he had drawn up plans and assembled materials for a storage bench and some extra wall shelves.
After a week of sawing, hammering, painting and generally making sure everything was robust enough to withstand Toby jumping and climbing on it, he had finished and I had a lovely new storage bench that doubles as a seat at our table. There's loads of room within and I've vacuum bagged all of my intact skeins and balls so that they're safe and take up less space but even so it's already pretty full!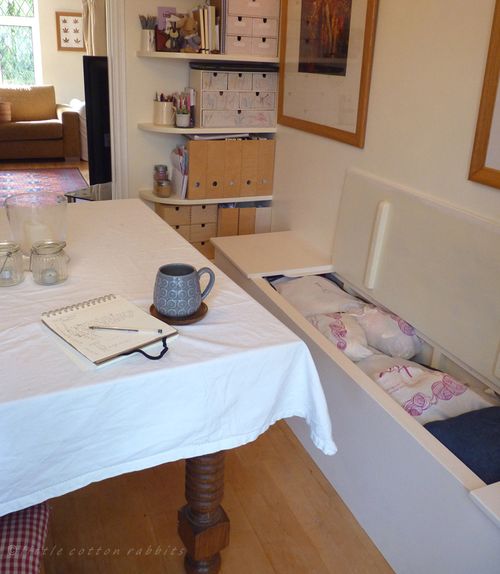 The question then arose of what to put on the top to make it comfy. We ordered a made-to-measure foam pad and I was looking at fabric to make a cover but nothing inspired me until I spotted the tiled throw languishing in a basket. I thought it would make the perfect cover and now it's finished, it does!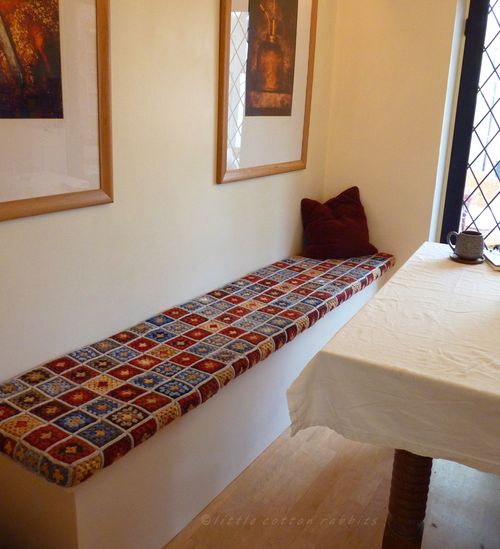 All of which leaves me a clear conscience in buying some lovely new yarn, so I have...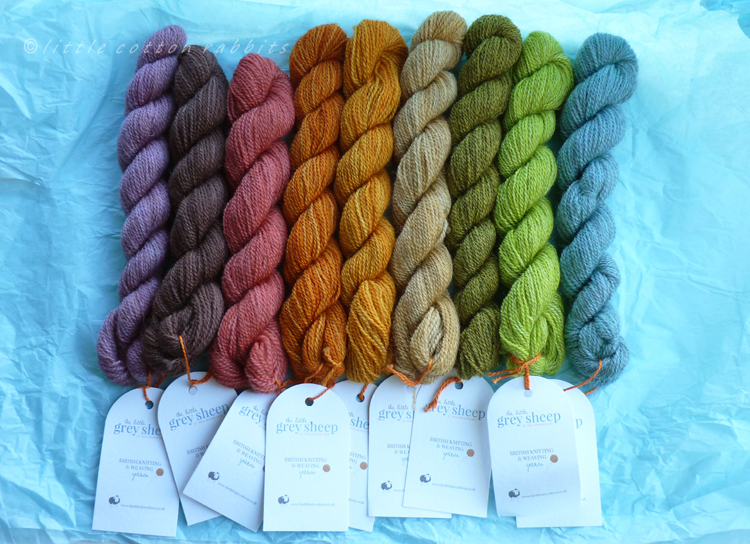 Little Grey Sheep colour work skeins which are truly beautiful and just perfect for the little cotton rabbit jumpers that I'm pattern writing for.
And of course I've had to start another throw to cover the ugly sofa which I'm determind will one day be pretty, but more of that another time x
..............................................
PS: Ooops, I forgot to say in the previous post that I'm only at the Creative Sanctuary from 1 - 3pm this saturday (yarn shop day). I've now updated the details